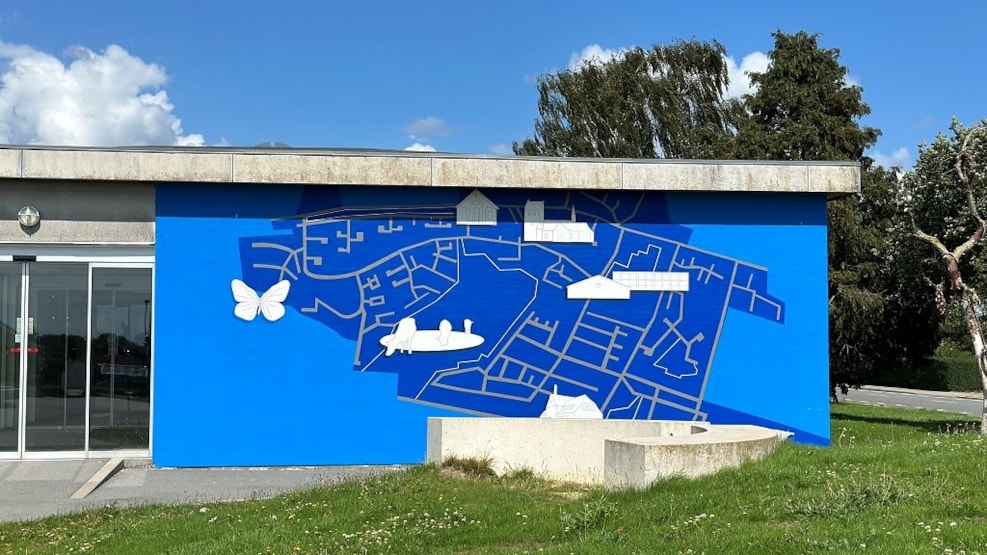 Wall mural at Vibeskolen
A blue and white wall mural is displayed at Vibeskolen's gable. The wall mural depicts a city map of Ullerslev.
Painter and visual artist Lisbeth Eugine Christensen is the creator of the mural at Vibeskolen in Ullerslev. The 30-square-metre wall mural shows Ullerslev as a map, where fixed points such as the old dairy farm and Bondemosen are included.
The painting is based on a map from Krak (Krak is essentially the Danish version of the white and yellow pages – an online phone book with maps etc.), so all the town's roads are carefully painted and have the correct scaling ratio. However, the visual artist has played with the relationship between factual map and artistic freedom, therefore you can see that the houses are painted less harshly and shadows have been added to create a floating effect.
The painting can be viewed from either Vibeskolen's schoolyard or from Skolevej.