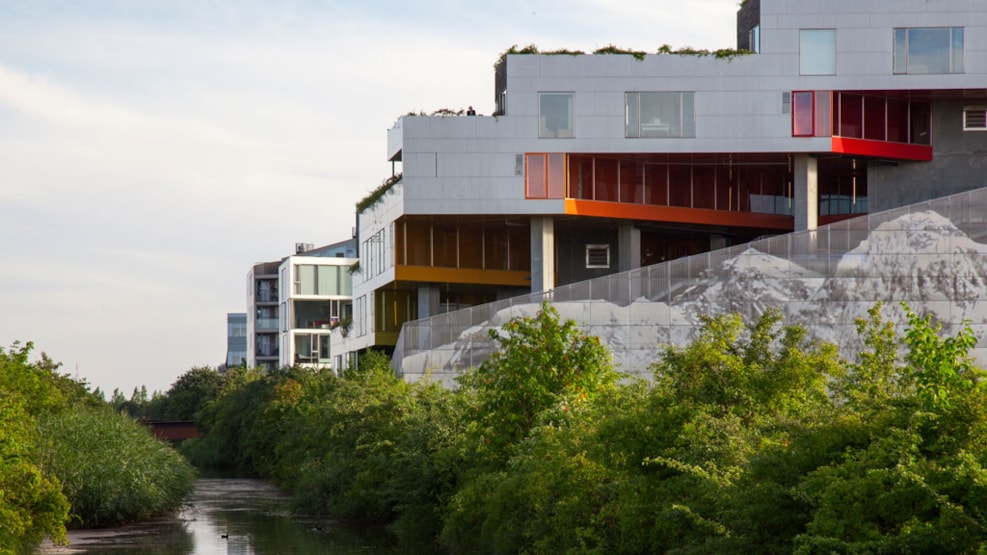 VM MOUNTAIN
The prestigious VM MOUNTAIN in Ørestad City is designed by architects Bjarke Ingels (BIG), JDS and Plot. It contains 80 residential units all with terrace decks and luxuriant roof gardens protruding from the building's base.
As opposed to the slating walls of the VM HOUSES, the VM MOUNTAIN features more traditional dwellings in an inner-suburb neighbourhood elevated to the 11th floor with spectacular views of the city and coastal region.
Terrace decks come complete with evergreen vegetation and an automatic sprinkler system designed to service the intermittently blooming perennials, not to mention the view of Ørestad and East Amager.
Even the car park is unusual with its 16 metre-tall dramatically coloured walls and the residential lift moving obliquely along the inner wall of the building.
World-class architecture
The VM MOUNTAIN was finished in 2008. It was shortly after awarded the world's best residential building at the World Architecture Fair.