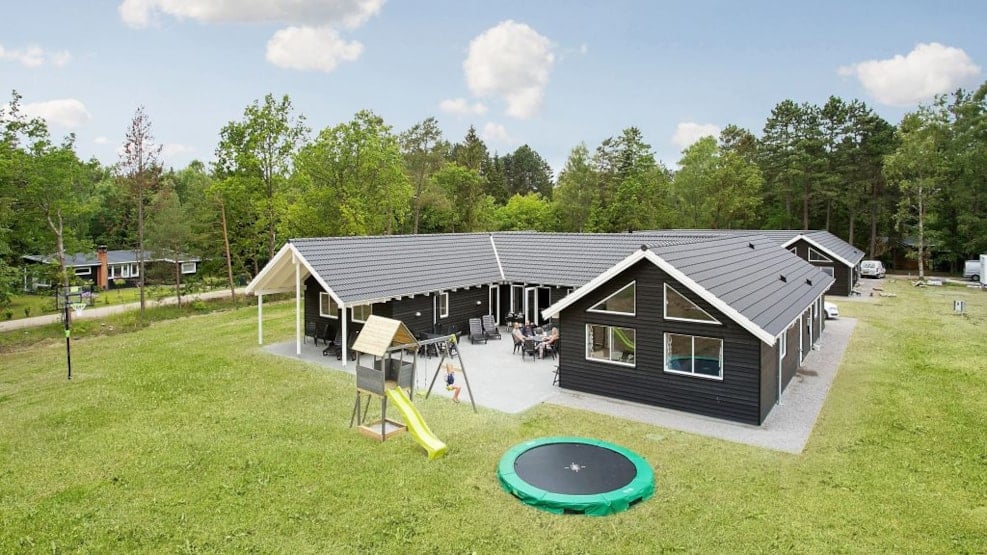 VillaVilla
VillaVilla rents large luxury holiday homes in Asserbo, Liseleje, Tisvildeleje, Gilleleje, Hornbæk, and by Vejby Beach in North Sealand.
Large luxury holiday homes in North Sealand
Experience an exclusive vacation in North Sealand with our rental of beautiful luxury holiday homes. With us, you will find a wide range of stunning vacation properties in the area that offer luxury facilities such as a pool, spa, sauna, and activity rooms, as well as various entertaining activities.
Whether you prefer to spend your vacation in Tisvildeleje, Vejby Strand, Gilleleje, Hornbæk, or Asserbo, we can help you find the perfect holiday home in North Sealand. Visit VillaVilla and discover a lovely selection of holiday homes that can fulfil your vacation desires.
The holiday homes are modern and can accommodate between 12 and 24 people. In a luxury house, there is always something to do, even if the weather doesn't cooperate. During the low season, the houses are rented on the weekend at very reasonable prices.
Explore North Sealand
Start your day with a lovely morning. Go on an adventure and experience the beautiful Danish Riviera in North Sealand. This breathtaking coastline, also known as the Danish Riviera, offers a wealth of charming seaside towns that buzz with life and activities year-round.
Here, you can rent a large holiday home and enjoy a fantastic vacation experience. North Sealand allows you to combine incredible nature with cultural experiences, café visits, gastronomic adventures, and exciting trips to the many attractions in the area.
Whether you want to relax and enjoy life or have an active vacation, you can fulfil your dreams in one of our luxurious holiday homes in North Sealand. We look forward to welcoming you to a lovely holiday home where you can enjoy your vacation time, have a great time, and create beautiful memories with your loved ones.
So, if you need a large holiday home to accommodate the whole family or all your friends, VillaVilla is the right place to look. On our website, you can read about our luxury houses, check available periods, and book a luxury vacation online. We are also happy to help you find the perfect luxury house for your vacation!
The beautiful nature and exciting attractions in North Sealand offer relaxing and active vacation activities, including good sandy beaches, forest walks, and day trips to attractions. The holiday home areas also have excellent facilities, and Copenhagen is easily accessible to enjoy the city's sights.
North Sealand is known for its beautiful nature and long coastline, making it a popular area for family vacations. There are different sandy beaches where you can relax, swim, and enjoy the sun. For those who want a more active vacation, there are also opportunities for hiking in the forest or cycling.
When you go on a holiday in a North Sealand holiday home, you have plenty of opportunities for experiences with family and friends.
We look forward to welcoming you to one of our many luxury homes!