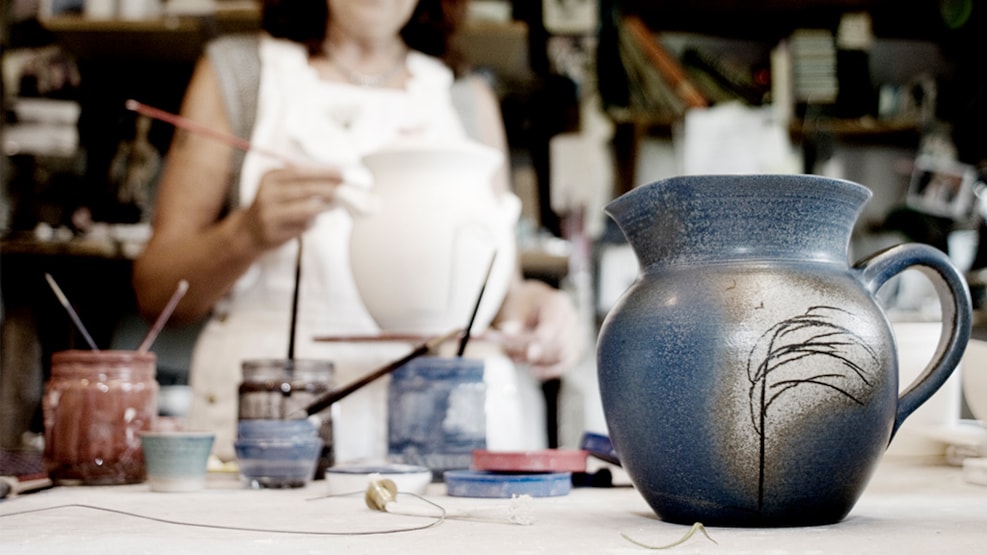 Ulla Pedersen - Potter
Ulla Keramik is one of Langeland's longest established ceramic studios. In the boutique and workshop you can find a wide selection of handmade stoneware and porcelain
Ulla Keramik
Ulla Pedersen has become an institution on Langeland - she has been making ceramics here since 1968. Her products have developed from simple brown pottery to contemporary design. Her works display a lot of humour, and she draws inspiration from the landscape around her.
A living workshop
Ulla Keramik was established in 1968 and has been open every year since - all year round.
In the workshop her creations are turned, shaped, dried and fired. In the shop, which is an extension of her ceramics workshop, the finished vases, plates and pots are sold. "Langelandscape" is her name for a type of decoration she uses, inspired by the surrounding nature of Langeland. "Bagenkopper" are cups with a clothes button on the inside, other mugs might hide a spider or another surprise. You will not find two things that are totally identical as everything here is handmade.
Visit the workshop
This active workshop is open all year round and can receive groups of up to 50 people. You are always welcome at Ulla Keramik.