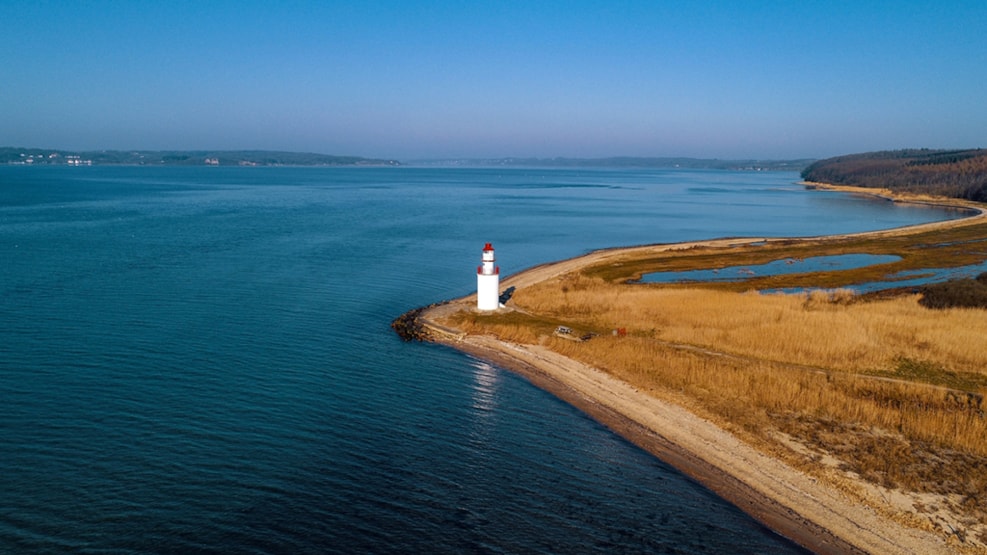 Træskohage Lighthouse
On the northern side of Vejle Fjord you will find, Træskohage Lighthouse, which is a beautiful and recognizable landmark for the area around Stouby and Hotel Vejlefjord. The birdwatching tower and lighthouse has a wonderful view over the fjord, which makes this a popular excursion spot. 
The beacon of Vejle Fjord
If you have ever had the opportunity to sail around Vejle Fjord, you will definitely recognize the characteristic Træskohage Lighthouse, which is standing proudly amidst the beautiful nature on the northern side of Vejle Fjord.  The 13-metre-high lighthouse was built in 1904, but has been renovated in the last couple of years and looks as good as new, thanks to local enthusiasts. The lighthouse is open for the public. When visiting you have the opportunity to climb the stairs and enjoy the beautiful view from the balcony. Træskohage lies on a headland, which makes it possible for you to see most of the fjord and all the way to the island of Funen.  By the lighthouse lies a small beach, were you to go for a swim.
Explore the area's wellness paths
Træskohage Lighthouse lies near the popular hotel, Hotel Vejlefjord, which offers spa and wellness treatments of high quality. In the hotel park, which is open for the public, you will find the historical wellness paths, where you will experience the picturesque area. Along the wellness paths, you will find 20 "thinking benches", each of them with their own quote inscribed.  One of the wellness paths, the yellow route, follows the coast and ends at Træskohage Lighthouse. The path leading to the lighthouse has been renovated to create a safe path to the lighthouse for wheelchair users.
Combine an excursion and a picnic
Hotel Vejlefjord offers the opportunity to order a nice picnic basket, which you can bring with you, when you are out and about enjoying nature. In the area, there are many nice places to enjoy your lunch – whether it is in the beautiful park, by the water or in the tranquility of the forest.