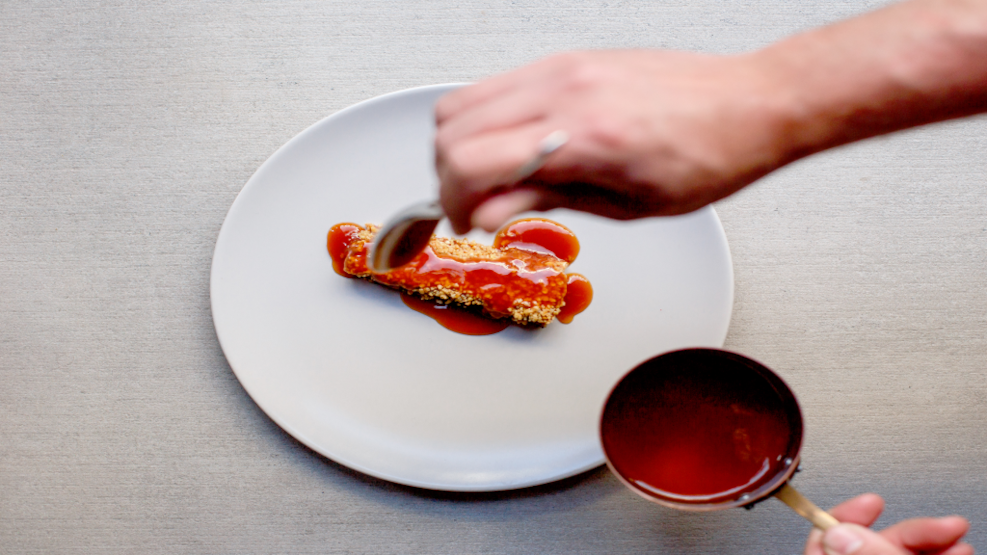 Terra
With its Green Michelin Star, Restaurant Tèrra guarantees you a gastronomic and innovative experience, with a focus on sustainability and a zero-food-waste policy. Tèrra invites you in among warm and minimalistic surroundings, and they are not saving any expenses on their organic products.
In Østerbro you will find an Italian gem, which builds its identity on its deep respect for nature. 
At Tèrra the tasting menu is adjusted after each season of the year. Tèrra serves dishes particularly from the modern cuisine, but balance each menu on animal protein with local biodynamic meat or fresh-caught fish.
Tèrra has a deep respect for nature, seasons, and biodynamic choices. This is why the restaurant is called Tèrra in the first place. In English, Tèrra is translated to Earth and therefore is being associated with Mother Earth. Tèrra is a restaurant that, besides the Italian roots, is trying to propose a no-label modern cuisine. The dishes are inspired by the travel and the philosophy of the Chef, Valerio Serino, who's trying to use only local ingredients with the main aim of no-food-waste.
The Italian Valerio Serino, who is responsible for sustainable progress. Valerio Serino tries on a daily basis to be innovative and rethink the use of ingredients and products in the restaurant. Tèrra does not articulate itself as an Italian restaurant since its dishes are the expression of an idea of international cuisine that wants to communicate the beauty of no-food-waste, Sustainability, innovation, and Minimalism.
Do you prefer having your authentic Italian experience in the center of the city? Then you will find Tèrra's Pasta Lab in Torvehallerne at Il_mattarello. In the pasta lab, you will find a dining bar, where they are making the ecological pasta, which they offer at Tèrra.