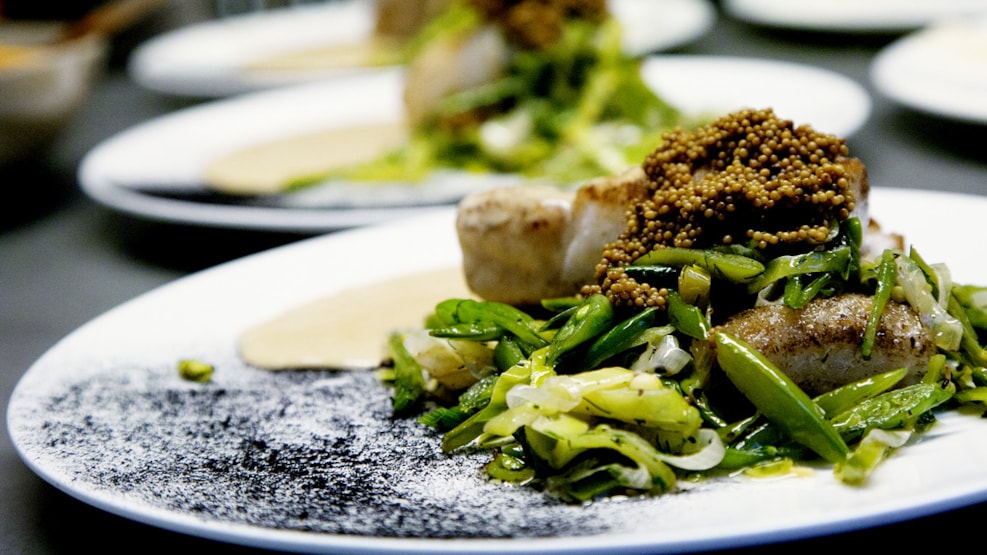 Taste Samsø
They say that the sun is always shining on Samsø. Perhaps that is true. It certainly didn't disappoint the last time I visited this island of summer scents.
 
By Louisa Lorang
Potatoes are not a disappointment on Samsø, either. Every year, Samsø produces the first Danish potatoes. This is just the way it is; the potato season starts earlier on Samsø than elsewhere in Denmark. Perhaps because of the sun's help?
I have munched my way through a mere fraction of the delights that Samsø has to offer. This island has much to offer someone with an appetite like mine.
Herring and brandy
First stop is Skipperly in Ballen Harbour. Here, Skipper himself gives you a warm welcome, pleased to offer you his homemade brandy. The menu contains classic dishes such as herring in all its manifestations (who isn't a fan?!), rhubarb trifle, vol-au-vents, asparagus, lumpfish roe as well as some more modern dishes.
Local greens and bric-a-brac
After lunch, it's customary to wander past some of Samsø's many flea markets and road side stalls. Here you can find fresh local asparagus, potatoes, strawberries, honey, homemade jams and much more.
I stop at most of them, as I just can't help myself. But please do make sure you visit Yduns Have in Toftebjerg. Here they have everything! Anything in season is to be found here. If you're lucky, they'll dig up some potatoes for you while you wait.
There are also many second-hand stalls on Samsø. If you're cycling, bring a big basket for all your purchases. These stalls are everywhere, selling second-hand goods at prices that delight a city dweller like me.
When thirst or a sugar-craving arises!
Whether you're in need of juice, beer, wine or spirits, Samsø offers it all.
Enjoy an ice-cold beer from Samsø Bryghus (micro-brewery), or juice from Samsø Bær, or look in on Sams Island Distillery and sample their rum and vodka or their rather unique gin, made with orange ants!
There are also several wine producers on the island. If you would rather have an ice cream, don't miss a visit to Casa Tua which makes the most wonderful ice cream from an Italian recipe. Make sure to include their mousse on top of your ice cream. This is a soft, sweet topping 'à la guf' (a typical Danish addition to ice cream) but so much better!
If you would rather have a little of everything, that is the whole of Samsø in one delicious mouthful, then Smagen af Øen is the perfect place to visit. The owner will happily serve you lunch, or he sells knick-knacks, flowers, ice creams, cold beers, local delicacies while being one of the nicest people on the island! In any case, this is where you can take some of Samsø home with you.
Are you still hungry?
I'm not easily satiated. When I go out to eat, I love eating both simple and fine dining. If you're still hungry, you can enjoy a meatball sandwich in Samsø Madsnedkeri, fish cakes on the harbour, or a locally crafted, more refined meal at Ilse Made.
There are a multitude of options, making it hard to choose. And although I may feel replete when I leave Samsø, it's not long before I feel hungry for some of all these things again – sunshine, new potatoes, vantage points, beautiful countryside and more time for meals, for people and for tranquility – all on Samsø!
---
On Samsø there are more than 35 eateries, from sausage stalls and small cafés to restaurants with fine dining. You will find a list of these eateries on www.visitsamsoe.dk and also in the mini guide "Eat well on Samsø".
Louisa Lorang
• Is a trained chef
• In the last 12 years she has been developing recipes and designing for magazines and businesses.
• Publishes the online, free magazine Lorang&Co.
• For the last 9 years she has been a TV chef on Go'morgen Danmark, a Danish breakfast TV show.
• She has written 15 books, the latest on being "Leaving Home Cookbook"