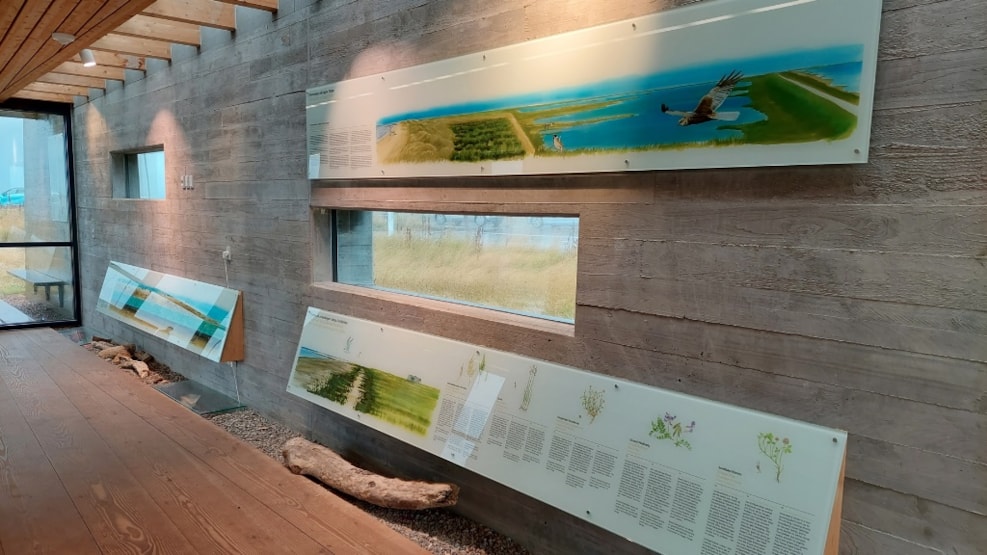 Svaneholmhus - Thy National Park Info Center
Svaneholmhus Information Center about Thy National Park is located on Agger Tange by the ferry port at the very bottom of the southern tip of the seaweed.
The place is a natural hub for various types of traffic, as it is possible to get there by car, on foot, by bike, by kayak or boat.
The info house is built in a sustainable architecture in harmony with the raw surroundings. Here is room for contemplation or a much-needed break far away from it all.
In the house you can learn more about the special nature of the area. About the coastal lagoon and the beaches, plants and birds that can be found on Agger Tange.
Here is free wi-fi so you can download the National Park Thy's app for smartphones.
The information house is not staffed, but you can get answers to all your questions about National Park Thy using interactive screens.
You can also find hiking leaflets and other things in the house. A visit here will be a good starting point for further exploration of Thy National Park.
From the roof of the building you have a view of birds and seals. From rest areas along the ferry road and from the bird observation post on Arbejdsvejen you can see the bird life in the lagoon. At sunset in September, you can have a special experience when thousands of greylag geese fly in from the east to spend the night in the lagoon.
Svaneholmhus is open every day all year round from 6.00 to the last ferry.