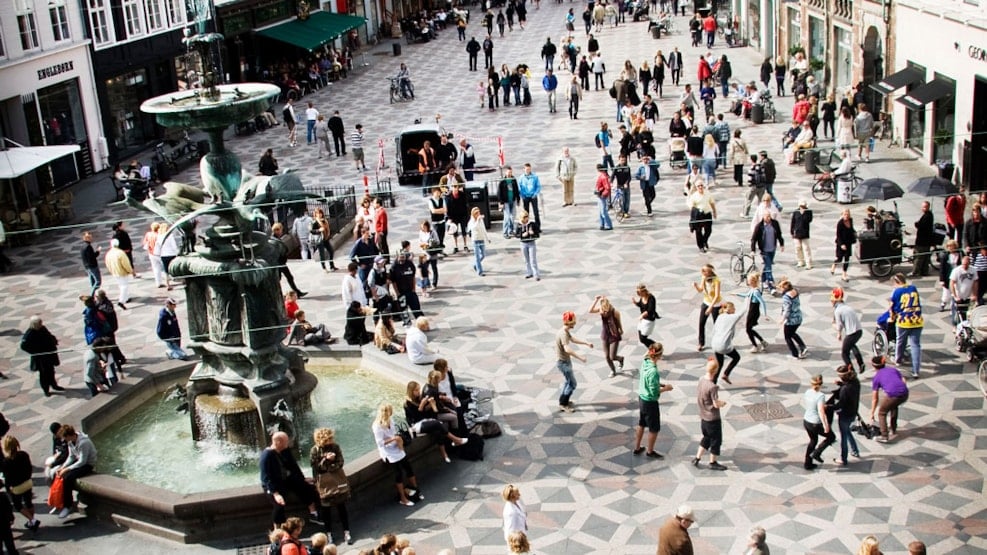 Strøget
Copenhagen's largest shopping area is centered around Strøget in the heart of the city.
What will you find on Strøget, one of Europe's longest pedestrian streets? The 1.1km stretch runs from City Hall Square to Kongens Nytorv and features budget chains, designer brands and plenty more.  
The first thing to know is that it's not just one street: Strøget is a nickname from the 1800s and covers the streets Frederiksberggade, Nygade, Vimmelskaftet and Østergade and Nytorv Square, Gammeltorv Square and Amagertorv Square.
Shopping on Strøget
Strøget is most famous for shopping. Major international high fashion brands such as Prada, Max Mara, Louis Vuitton, Mulberry, Hermès and Gucci are represented at the end of Strøget facing Kongens Nytorv. If you don't want to break out the big wallet, you can continue down Strøget towards Rådhuspladsen, where you'll find stores such as H&M, Vero Moda, Weekday and Zara along the way.
Read our big guide to shopping in Strøget
Attractions on Strøget
There's more to Strøget than shopping! Look up and down the side streets during your shopping spree, and you will see several of Copenhagen's beautiful sights and attractions, such as Helligåndskirken, Church of Our Lady (Vor Frue Kirke), where Crown Prince Frederik and Crown Princess Mary were married, behind Gammeltorv Square, the court house at Nytorv Square and the Stork Fountain (Storkespringvandet) at Amagertorv Square.

From Amagertorv, you can also see across the canal to Christiansborg Palace, where the parliament sits. And do not forget City Hall Square (Rådhuspladsen) with Copenhagen City Hall Tower and the beautiful Kongens Nytorv Square with The Royal Danish Theatre and Nyhavn at the other end of Strøget.
Street performers on Strøget
Strøget is a popular hangout for the city's street performers, especially at Amagertorv Square, where you can often see performances by acrobats, magicians and musicians.

At the end of the street adjacent to City Hall Square, you should be wary of con artists who make money on games in which they ask passers-by to guess the whereabouts of a ball under one of three cups.