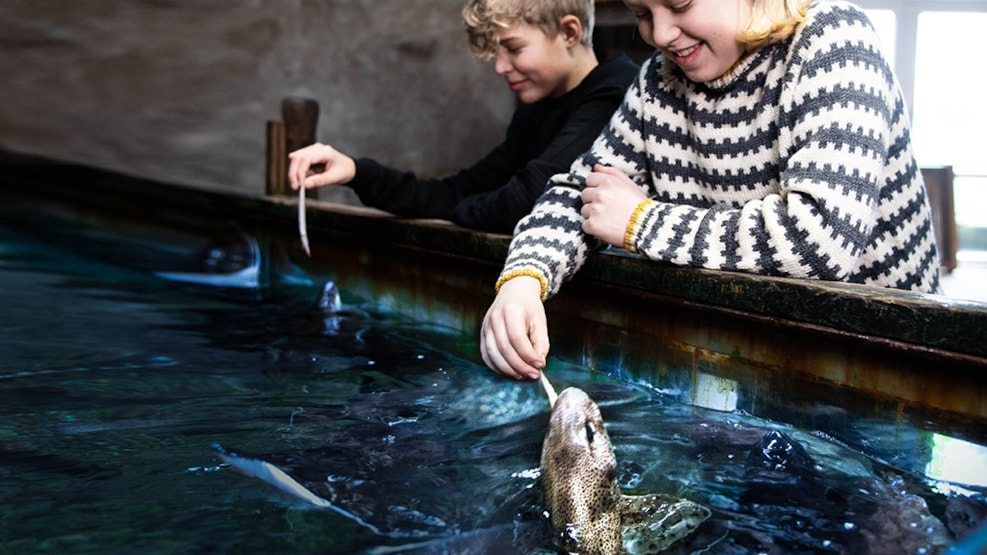 Shark feeding at Jyllandsakvariet
Help feed the sharks three days a week
All year round you can join Jyllandsakvariet's fish keepers each monday, wednesday and saturday to feed fish, sharks and rays in the touch pools. The feed is provided in cups and you can feed all fish, sharks and rays in pools, that are marked with feeding signs.
In the touch pools you can of course use your hands to feed the fish, while in the pools with the bigger sharks, you must use feeding sticks.
You will find the next feeding in Jyllandsakvariet's activity calendar.
Don't miss Jyllandsakvariet's "shark maternity clinic", where you can experience the small-spotted catshark's
development from egg to shark. Follow the entire development from "birth" to "daycare" to the small ones have grown so big that they are ready to swim further into the large aquariums.
In Jyllandsakvariet, in addition to sharks and fish, you can also - all year round - experience the creative workspace, an indoor amber beach and maritime playgrounds both indoors and outdoors. Let the children go exploring in a children's submarine, become the skipper on the blue cutter or pirate on the new pirate ship.