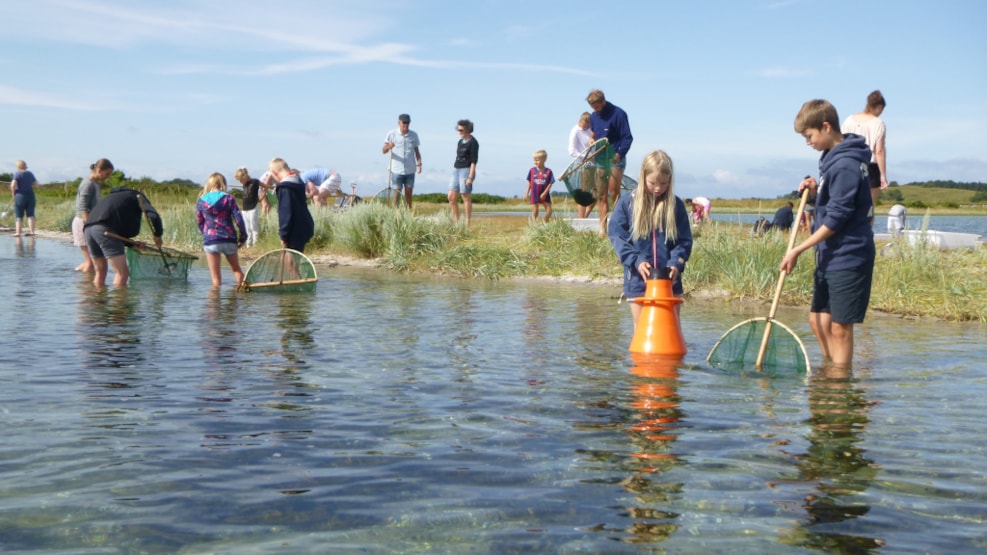 School in the Open, Samsø
Every year, Samsø Nature School gives thousands of visitors a great natural experience of Samsø's green and blue areas.
Samsø Nature School is located in the middle of the preserved area around Stauns Fjord and near Langør Harbour. For more than 30 years, the school has been the pivotal point of the presentation of the island's nature, and its activities have spread from country to country, from children to adults. The aim of Samsø Nature School is to give visitors good experiences in nature and some knowledge of what kinds of interesting plants and animals are hiding out there. This aim is seen again and again no matter whether you learn to catch crabs in Ballen Harbour, explore the popular nature camp for children or book party group trips in advance.
"When we have taken a group out for an activity in nature, we often have only 2-3 hours available. This means that we have to boil down our presentation to the essentials. For us this implies giving people a good experience and rousing their curiosity into wanting to go out later and discover more of nature on their own", Ranger and Department Manager at the Nature School, Bjarne Manstrup, explains.

Popular Summer Activities
Outside the tourist season, it is mostly schools and day-care centres from both Samsø and the mainland that make frequent use of offers given by Samsø Nature School. However, all are welcome to contact The Nature School and book a day in nature full of adventure, especially when summer arrives at Samsø. It is then that you will find quite a lot of tourists finding their way to Samsø Nature School and taking part all the activities arranged on the island. An especially popular activity is crab catching – both for children and adults:
– "The event "Crab Catching in Lillehavet" appeals to both children and adults and it has almost all you want for a thrilling family activity – and, in addition, it takes place in a fantastic natural area", says Bjarne.
For more information go to this website