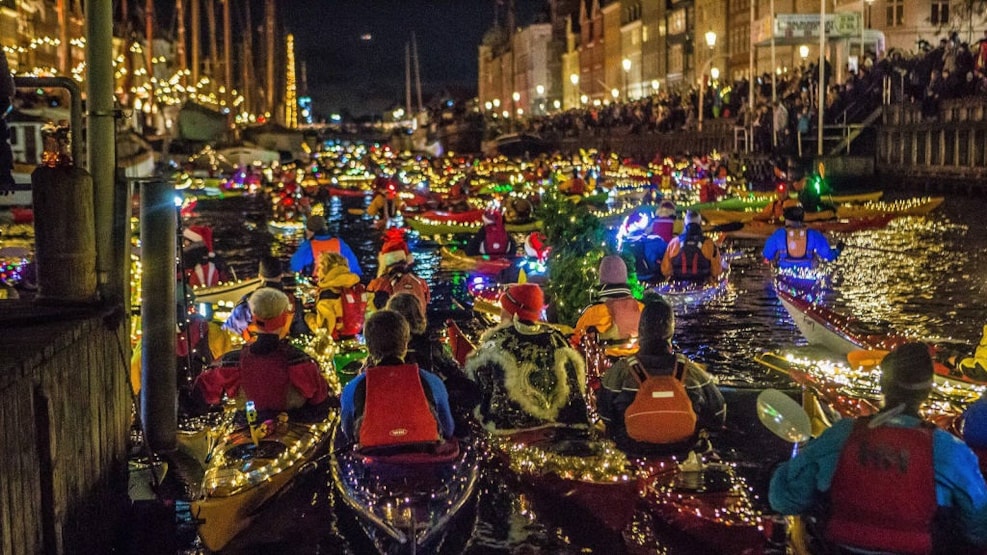 Santa Lucia parade in kayaks
Experience the floating Santa Lucia parade in Copenhagen's canals.
13 December, you can experience an alternative take on the traditional, Danish Santa Lucia parade, when kayaks sail through the canals dressed in lights and Christmas decorations.  
The parade is a very beautiful sight, that can be enjoyed from the quayside around Copenhagen. The kayakers will be singing Christmas carols in Nyhavn, Christianshavn and by Højbro Plads.  
If you would like to participate as part of the parade, kayaks can be booked here EventSiteWeb (octopuspms.com).

The evening starts at Kayak Bar with some nice hot mulled wine & æbleskiver from 15:00.
17:00 departure from Kayak Republic / Kayak Bar
17:15 Nyhavn 1st stop with singing
17:45 Christianshavn 2nd stop with singing
18:10 Blox 3rd stop with song
18:30 Højbro Plads 4th stop with song
18:45 Kayak Bar and Republic last stop with song.
Afterwards, there is a cosy wrap-up of the evening at Kayak Republic / Kayak Bar with more mulled wine and æbleskiver. There will also be served hot Bouillabaisse with bread to share as dinner with friends and family at Kayak Bar. 
Dinner can be booked here EventSiteWeb (octopuspms.com)