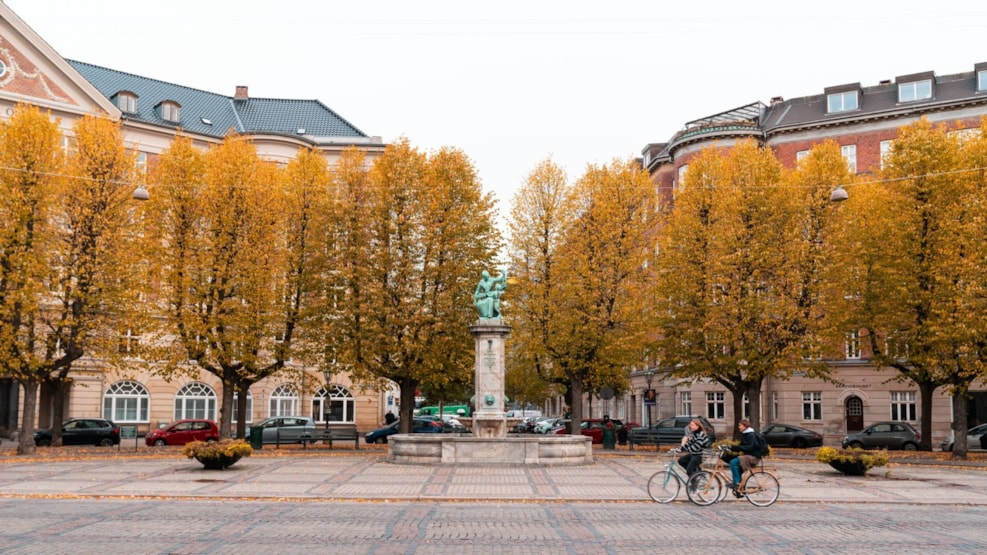 Sankt Thomas Plads
Sankt Thomas Plads is a large, round plaza in central Frederiksberg, located at the eastern end of Frederiksberg Allé, where it meets Vesterbrogade.  
One of the larger open spaces in the city is Sankt Thomas Plads (St Thomas Square). The plaza traces its history back to the years between 1700 and 1704, when Frederiksberg Allé was established as the king's private drive leading directly to the gardens at Frederiksberg Palace.  
The square is named after a country house originally located here, owned by Albert Heinrich Riise, the first pharmacist on Saint Thomas in the Danish West Indies. He bought this villa in around 1868, renaming it Sankt Thomas, after the island where he had lived for thirty years.  
Back to the public 
After Riise's death in 1882, the villa was sold and transformed into an entertainment venue of the same name. In turn, this gave rise to the name Sankt Thomas Plads. The original country house was demolished in 1903, but the name was transferred to the residential building built in its place in 1905. This plaza was only officially named Sankt Thomas Plads in 2003. 
In 1932, two monuments were erected on the square, designed by the architect Aage Sigurd Kjeldgaard Lautritzen. Both illustrate chapters of the municipality's history and each is topped by a bronze figure designed by the Hungarian-born sculptor Jenö Meister. The figures on the pillars are a falconer, and a Dutch wife, symbolising the immigrant community living in Frederiksberg during the seventeenth century. 
Today, Sankt Thomas Plads remains a peaceful spot where you can sit and watch the world go by and reflect on a little bit of Danish history.