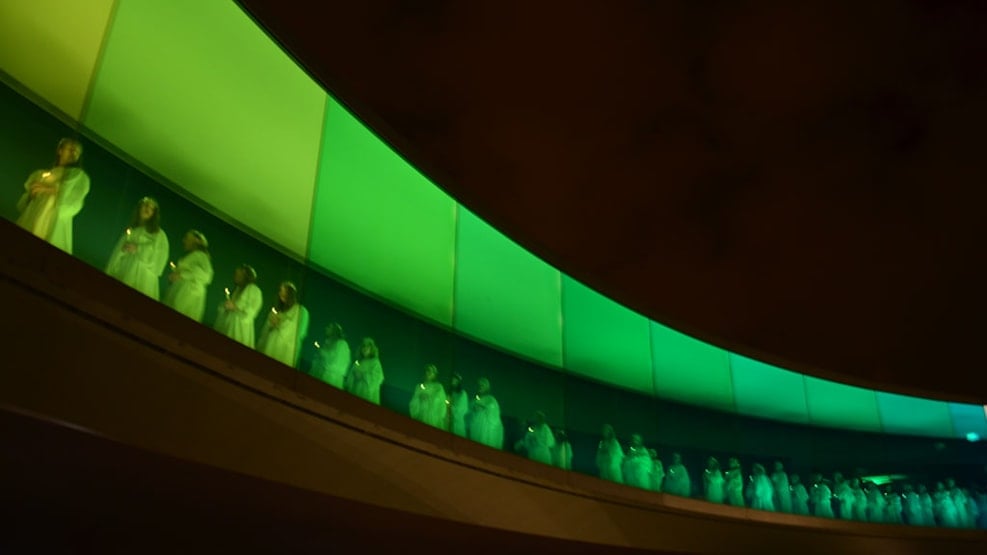 Saint Lucy's Procession at ARoS Aarhus Art Museum
Take a peaceful break from the Christmas bustle and enjoy the breathtaking sight, when the most beautiful Saint Lucy's Day procession in all of Denmark lights up in every colour of the rainbow high above Aarhus. 
See the light on top of ARoS
In keeping with tradition, the procession starts at the ARoS Public at level 4 and goes up the stairs to level 8. From here, it moves up to Olafur Eliasson's Your rainbow panorama, where it exposes you to the most beautiful sight when it goes around the complete colour spectrum. No matter whether you are inside the museum or outside in the street, you will be impressed when the procession lights up in every colour of the rainbow.
Who was Saint Lucy?
Originally, Saint Lucy's Day was a day of worship in honour of the light and the Catholic Saint Lucia. The name Lucia originates from the Latin word lux, which means light. Lucia was a young, Christian woman who at night handed out food to the poor back in the 300 A.D.'s Syria. On her head, she wore a crown-like headpiece fitted with candles in order for her to be able to see and have her hands free at the same time. Today, the Lucia bride, who heads the procession, still wears a crown with four candles on her head.
See what others are sharing on Instagram
#arosart #yourrainbowpanorama #visitaarhus #visitaarhusregion