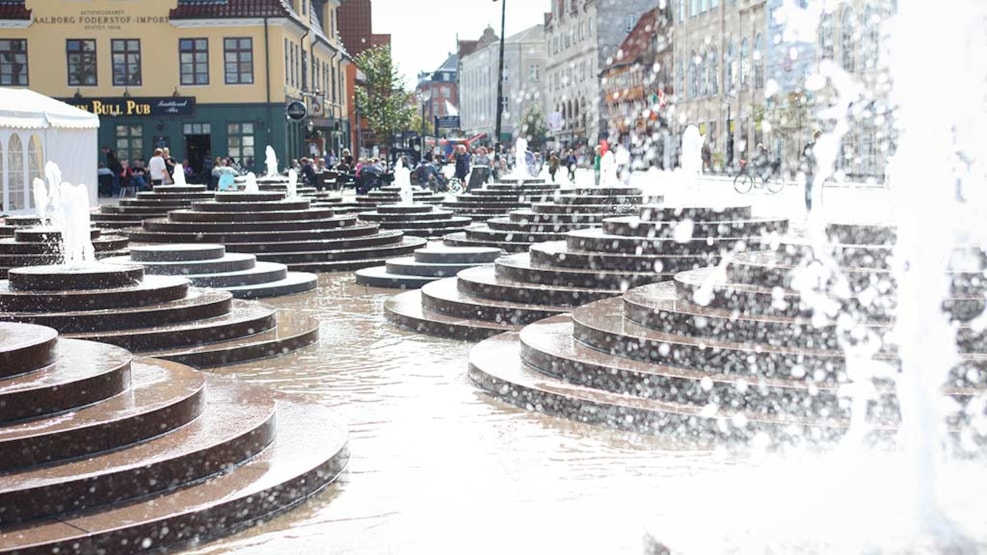 The Royal Customs House & Customs House Square
The Royal Customs House in Aalborg was designed by Hack Kampmann and built in 1902. Kampmann is also the architect behind Marselisborg Castle, the theatre in Aarhus, and the police station in Copenhagen.
In recent years, the Royal Customs House has gone through a great restoration, and today the building appears as it originally did. In 2006, the building was awarded a prize by Aalborg Municipality for the beautiful and extensive restoration of one of the old and valuable buildings in Aalborg. In 2007 the building received two more awards: "Ros" (praise) and "Facade of the Year".
The building is an example of the Danish romantic style with motives from the renaissance. Among other details, the style manifests itself in the symmetrical facade with the stately stairs. Furthermore, many unique details can be seen in the masonry and the eaves.
Customs House Square 
Just in front of The Royal Customs House, Denmark's first musical fountain was staged in 2007 at Toldbod Plads. Every day during the summer and until mid October, people in Aalborg can enjoy the beautiful fountain which throws water into the air at different levels. Four times a day – at 12, 15, 18 and 21 o'clock – you will hear an overture from Georg Friedrich Händel's Water Music, coming from the fountain. The music plays for about three minutes.
The old harbour front
Since 1556, the custom house of Aalborg has been placed where the Royal Customs House is now, which is where Østerå used to flow into the fjord. Østerå was widened to become a river harbour, so that ships could sail all the way up to the grocers' houses - like Jens Bang' House and Jørn Olufsen's house. Since 1897, Østerå has been covered and led around the city centre.