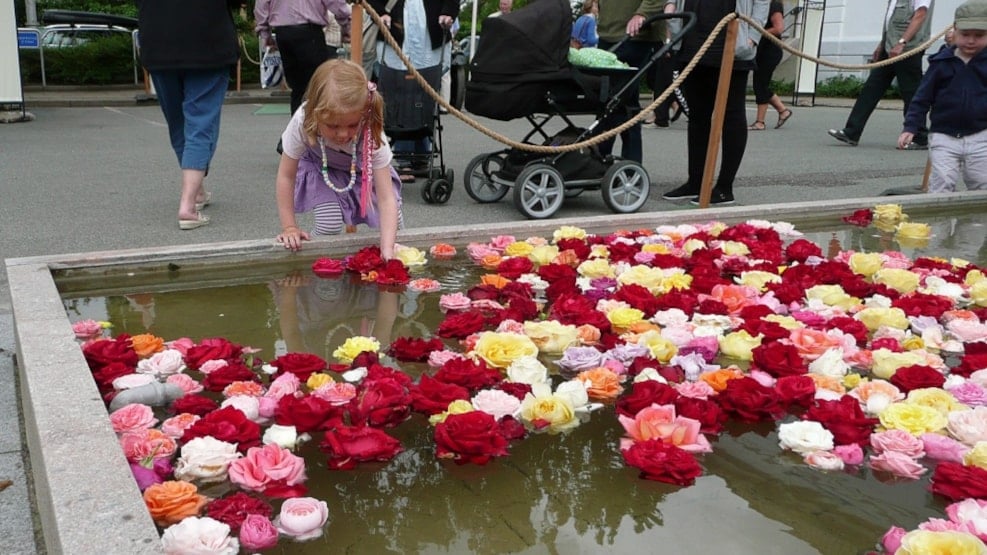 The Rose Festival
The Rose Festival is a party for all the senses - go to Bogense on the 1st weekend in August and see the most beautiful roses!
Visit the rose festival in Bogense the first weekend in August at 10-17! The whole city is decorated with roses and there are many beautiful decorations, music, fun and a great mood in town.

The Rose festival will take place on 5-6 August 2023.
The theme this year is Danish Film, which is why we are happy that one of Dansk Film's biggest stars, Ghita Nørby, together with designer and more Jim Lyngvild and rose breeder Rosa Eskelund will participate in this year's christening.
Great exhibitions
There are more and more rose decorations every year. There are always many beautiful roses to look at, and when the festival is over on Sunday afternoon, you can buy the roses that have been used to decorate the streets.
There are also beautiful exhibitions every year in different places, where you can see more beautiful roses, flowers and art. This year, one of Denmark's most talented flower painters, Gerda Nietzer, is exhibiting her works in the big hall at Bogense School. In the town hall, "Jim's adventurous roses" is the theme for this year's exhibition of dresses, tablecloths and photos.
You get entry to both exhibitions by buying a Rose Festival program for DKK 30.
There is a food market on the square, garden stalls on Sct. Annagade and a market in the town center with art, design and other exciting goods.