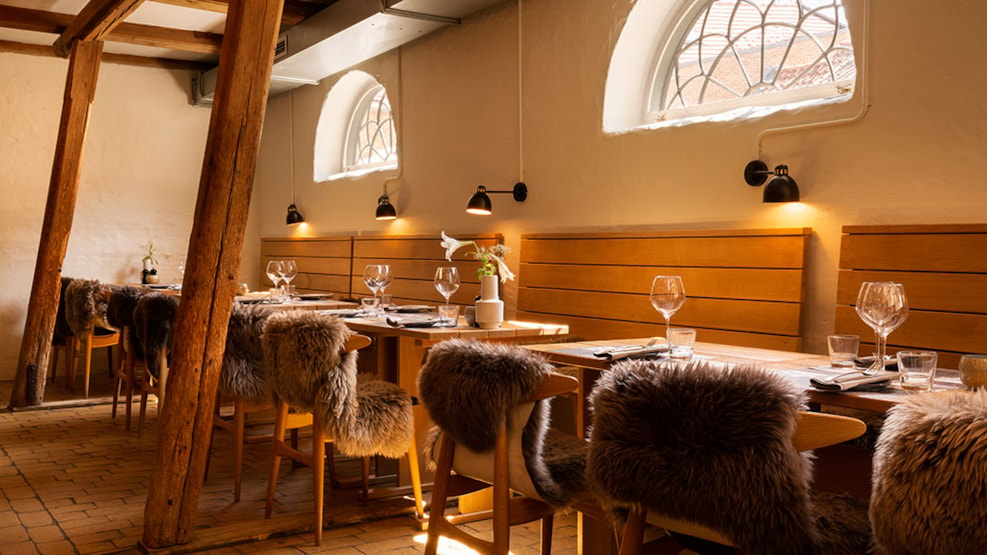 Restaurant Oluf Bagers Gaard
Restaurant Oluf Bagers Gaard in Nørregade is located in an old cobbled backyard with entrance from Hans Jensens Stræde. The cuisine is probably best described as Danish - Nordic inspired by French cuisine. The style is raw and rustic. You are seated in what used to be a horse stable - the stalls are still there, and you can see both the stone floor and the woodwork. The atmosphere is relaxed and informal. If the weather allows, you can dine outside in the courtyard.
Restaurant Oluf Bagers Gaard offers lunch with small, hot dishes and open face sandwiches a la carte. In the evening you can try their popular concept with nine delicious dishes, divided into three courses.
The courses come in small plates and bowls, and then you choose what goes on your plate and at your own pace. It's a good place for a cosy evening with family or friends.
As well as operating as a restaurant, you can also order takeaway here. During weekends, you can take home five selected dishes that you simply arrange and/or heat before serving. During the week, you can order open face sandwiches to take home. They've also successfully offered a New Year's menu for busy hosts and hostesses. If you need a function room / party venue in the middle of Odense, they provide that too.
The name stems from the fact that the restaurant is part of Oluf Bager's Maternal Estate. The building dates back to 1586, when it was built by Odense merchant Oluf Nielsen Bager, who was a historical figure of the more colourful kind. Since then, the building has housed many different owners and professions. In 1772, Christian Gormsen Biering opened a print shop in the buildings and printed the first edition of Fyens Stiftidende. Later, a bookshop opened, which developed into a lending library - the first in the province. The buildings have also housed a school. Today, the building belongs to the Real Dania Foundation, which renovated the entire farm in the early 00s.