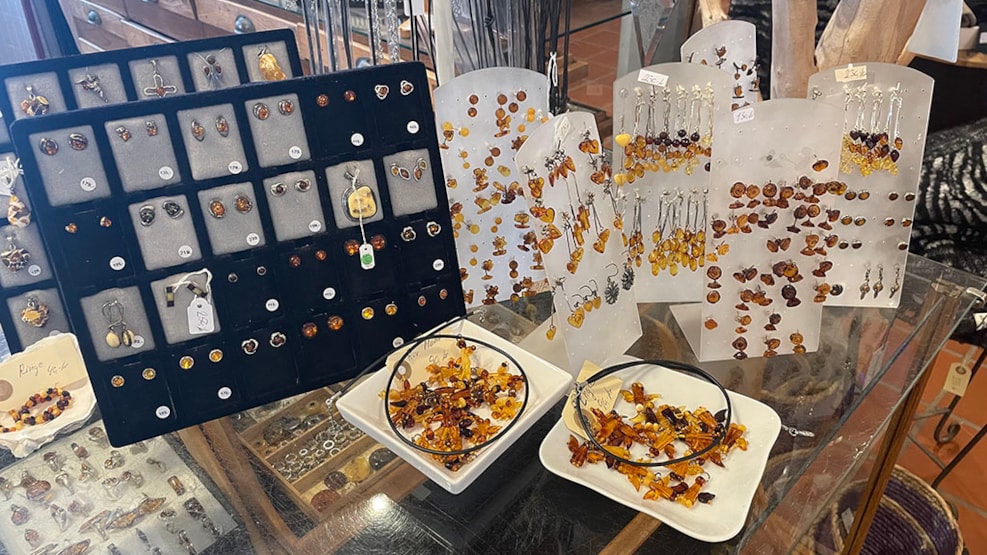 Rav Mads' Hus
Rav Mads Hus specialises in amber, handicrafts and women's clothing and is located in the town of Henne, close to Henne Strand. Also in the same building is an associated clinic offering treatments within craniosacral therapy, reiki healing, vacuum therapy, deep oscillation and nada.
The store is open all year round although the opening hours are more limited in the winter months. However, if you wish to visit the store outside of opening hours, you are very welcome to ring and arrange a time.
Amber
Rav Mads Hus makes its own jewellery using amber, often in combination with other materials such as precious stones, silver, glass and lava beads. The amber is either raw and untreated or sanded and polished down to a smooth and glossy finish. Rav Mads Hus also makes other artefacts out of amber, such as buttons, stitch markers and various different trinkets. The business even holds an amber school each year between early July and mid-August, allowing visitors to choose a piece of unpolished amber and work it into something special, like a necklace or a piece of pocket amber. Anyone can grind amber – all it takes is a little patience and dexterity.
Clothing
Rav Mads Hus also stocks high-quality women's clothing in sizes ranging from 36 to 60. Brands carried include Angel Circle, Bohéme, Janne K, Jalfe, Pont Neuf, Choiece, Micha, Dalia and Faschien.
Handicrafts
In addition to amber and clothes, you will also find an exciting array of different handicrafts in store. The selection of handicrafts from creative artists is always very varied and changes from year to year. So swing by the store and browse the wide selection of amber products, handicrafts and clothes.