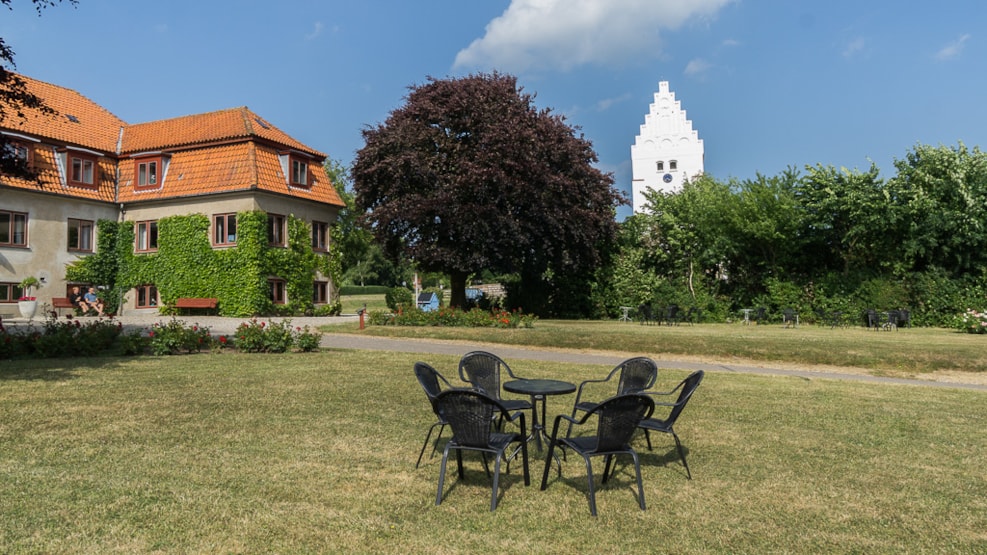 Pension Elmehøj - Bed & Breakfast
Pension Elmehøj Bed & Breakfast is located on the main road between Stege and Møns Klint, just 8 km to the town and 12 km to the cliff. It is next door to the beautiful Elmelunde Church, famous for its unique frescoes.
Pension Elmehøj is ideal for guests of all ages. In the large garden, there is a trampoline, swings, table tennis, football goals and a large playground, but also room for relaxation if you want to enjoy the tranquility with a good book and a cup of coffee.
The building, which previously housed a nursing home, has 23 rooms with space for 48 guests. Rooms are simply furnished and do not have private bathrooms. Several rooms have views of Stege Nor cove or the bay Hjelm Bugt.
Pension Elmehøj is located directly on the Camøno trail and is one of the route's official "break points". Hikers can buy packed lunches and ready meals, which can be heated up in the shared kitchen.
Pension Elemehøj Bed & Breakfast also has an industrial kitchen with room for about 60 diners, so it is the ideal place for hosting larger events, family celebrations and the like.