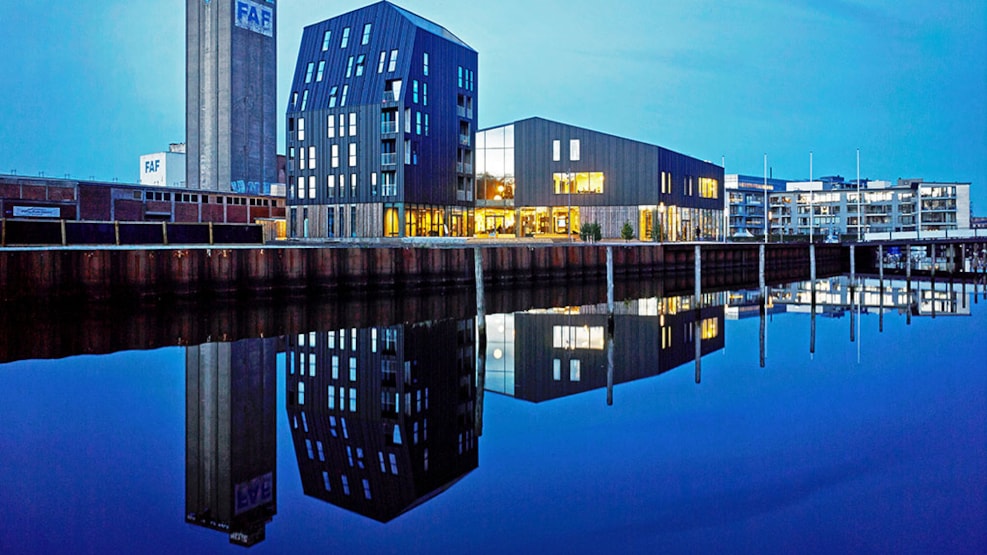 Odense Harbour & Marina
Odense Harbour was built in the beginning of the 19th century and a lot has happened since then. For 150 years it served as a busy industrial harbour, but now it's transforming into a new and exciting area with residential buildings, a culture house, The North Atlantic House, cafés and plenty of free sport-friendly activities. The area has obvious references to the past in the shape of the many preserved and "recycled" buildings.
Over the last couple of years several sports facilities have been built at the harbour. On "The City's Island" you can play beach volley, pétanque, try outdoor crossfit & parkour, miniature golf and play indoor soccer at the "Football Factory". Which is right next to our harbour beach, where you can enjoy a cool drink among the palm trees. Quite recently it became possible to go for a swim in the new harbour bath, which has all the modern amenities such as; changing rooms, an open air swimming pool, sauna etc. and attracts many locals on hot and sunny days.
It's possible to buy unique glass art at The Glassworks, where you can also see the work in progress. If you're more into vintage, there is a flea market every Sunday during the summer months - get there early if you want to make a great find! 
If you start to feel peckish, you have several choices: the restaurant at The North Atlantic House is open for brunch, lunch and dinner, and serves modern dishes inspired by the region. Only a few minutes walk from the harbour you'll also find a street food market in an old warehouse called Storms Pakhus.