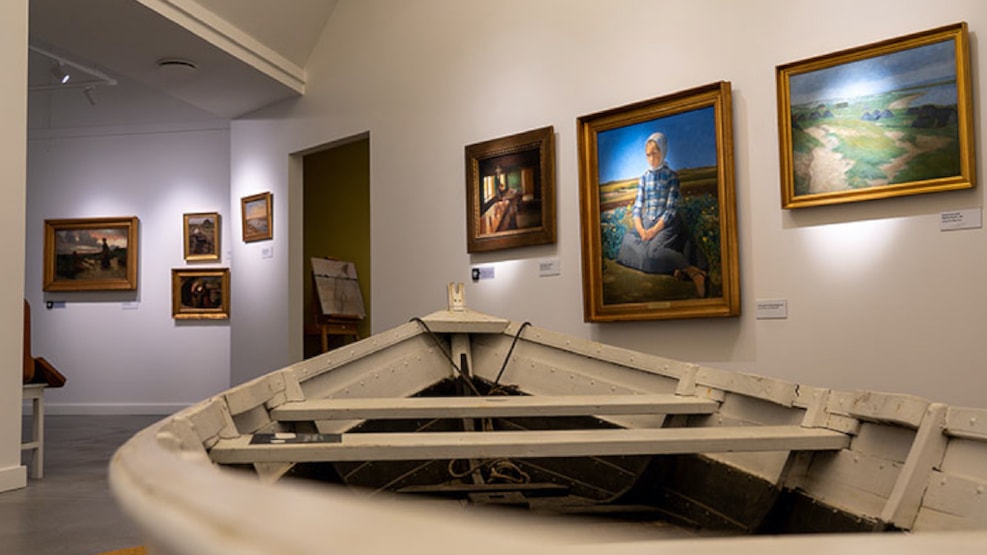 Nymindegab Museum
Today, Laurits Tuxen is known as one of the Skagen Painters, but in fact, he helped to create the Nymindegabmalerne artist colony at the end of the 19th Century. You can hear this story at the Nymindegab Museum.
In 1879, Laurits Tuxen embarked on a journey from an artist's colony in France along the west coast of Jutland and stopped in Nymindegab. The young artist fell in love with the enterprising fishing village, which was the largest on the West Coast at the time. The area around Nymindegab was a completely untouched part of Denmark, where life went on in harmony with the sea. Tuxen was deeply fascinated by the endless golden dunes, the roaring sea and the local population. For an artist looking for motifs, it was a magical place to land. Afterwards, Laurits Tuxen returned to the area over and over again, and founded the artist colony Nymindegabmalerne, which attracted artists from Copenhagen. Nymindegab also developed in the years around World War I into a favourite tourist destination for top-class bathers. They took the long journey in both trains and horse carriages to spend the summers at the seaside hotel out here on the westernmost edge of the country.
At the Nymindegab Museum, art and cultural history merge when works by Laurits Tuxen, Maria Thymann, Oscar Matthiesen, Johannes Larsen and others are accompanied by stories of the cultural meeting of the local fishing population and the painters and bathers from the big city.  Come and hear stories about the work of the 'esepigerne', the fishermen's fate and Dorthea's songs about life and death by the great sea. You can also hear stories about the bathers' holidays in the area, the local craftsmen, the many lives of the inn and, not least, the painters who, like Laurits Tuxen, found their motifs by the fjord, the sea and among the valiant West Jutlanders they met here.