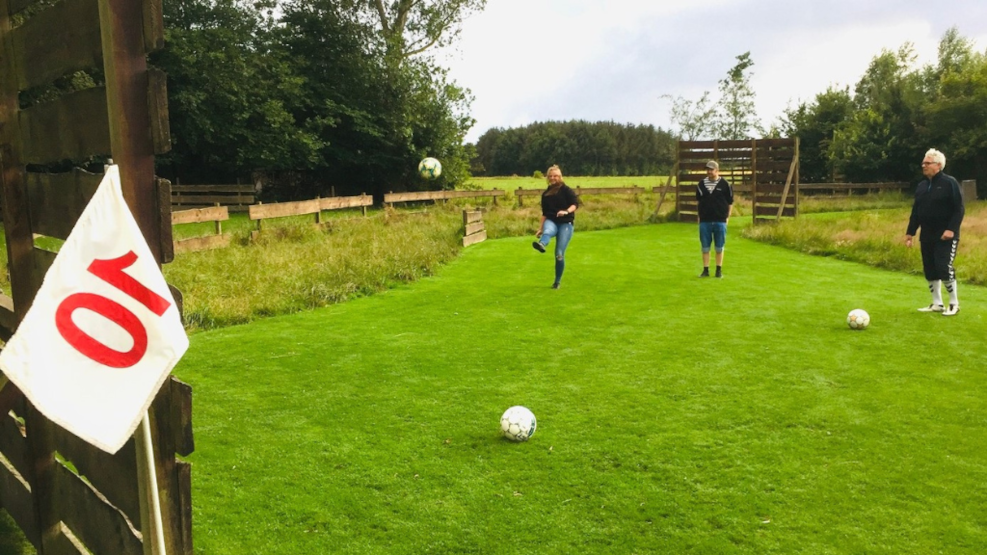 Nordjysk Fodboldgolf
Welcome to "Football-Golf in Northern Jutland
Football-golf can be played by everyone - a combination of golf, football and crazy golf, and the rules are quite simple. You kick the ball and play it all the way through our fancy and well-planned football-golf ground. The player with the fewest kicks has won.
There are 18 grounds of widely different lengths and particularly with very different difficulties. The shortest ground is 29 m, and the longest is more than 100 m. All together 1250 m. On your way you have to force small ponds, bunkers, trees, and a lot of other obstacles. You play with quite ordinary footballs.
Pay & Play Ground
Generally, self-service is used regarding payment. Read the guidelines in the "ball room" or contact us on arrival. Usually, we are somewhere around. Having paid you may play and make use of our facilities, as long as you like, on the day concerned. As a rule, you will spend a couple of hours when playing on all grounds.
Prices
Grown-ups: D.kr. 110,-.
Juniors (6-15 year old): D.kr. 60,-.
Children (under 6 years of age): free
Seniors (65+): D.kr. 60,-.
Please, REMEMBER cash and the exact amount or use MobilePay.
We do not accept any credit cards.
Target Group
In principle, everyone, young and elderly people, company events, stag and hen parties, clubs, associations, schools, tourists, families, boys and girls on a cosy outing or just a cosy outing with neighbours and friends.
Other Facilities
Large covered terrace with lots of tables and benches. Grill area with 2 large gas grills for free use. Tables and benches everywhere, pushcarts for free use, so there are lots of possibilities of enjoying your own sandwiches. Furthermore, a small green area for playing croquet or kubb. A slot machine with sweets and fizzy drinks, toilets, and a free parking ground for 60.
Generally, our large clubhouse of 120 m2 is open and may be used. In the house you will find different games (the clubhouse may be pre-occupied for other purposes).