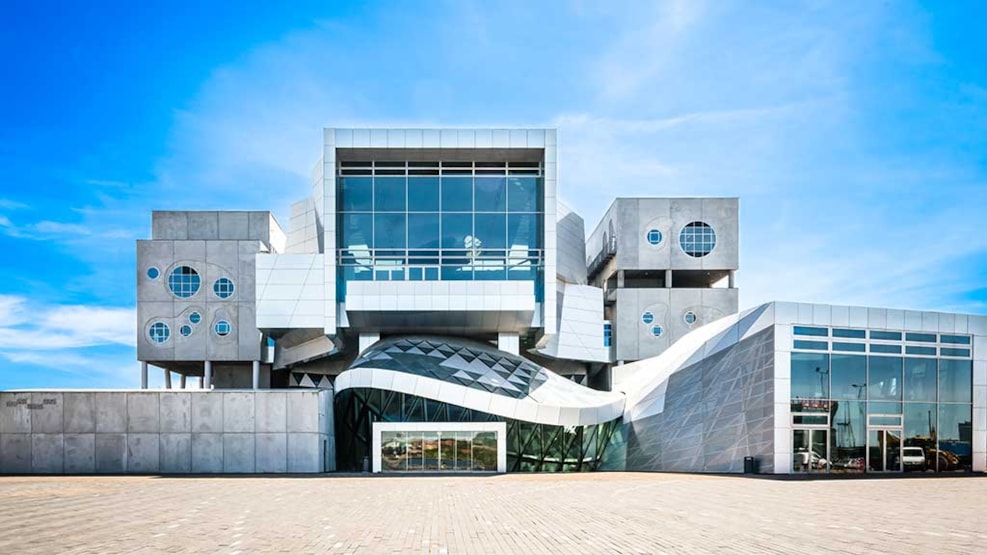 Musikkens Hus - Venue
On Aalborg's beautiful waterfront, with a spectacular view of the Limfjord, is Musikkens Hus (the House of Music) - a musical gathering point for all of Northern Jutland
Musikkens Hus is a spectacular structure that reflects Aalborg's industrial history, modern cultural life as well as the building's physical surroundings. It was designed by the world-renowned Austrian architectural firm, Coop Himmelb(l)au, and has decorated Aalborg's waterfront since 2014.
Conference and meeting facilities
Besides having a large world class concert hall, Musikkens Hus also has several smaller, but still different and inspiring, concert halls as well as several other rooms where you can host your conference, congress or meeting.
If you would like a truly unique experience by hosting a conference in an atmospheric and fascinating building, then Musikkens Hus is the place for you. The possibilities are almost endless, which makes it easy for you to find the perfect setting for your conference, congress or meeting.
Restaurant
Musikkens Spisehus, the restaurant located in Musikkens Hus, has a great view of the Limfjord and spreads across two floors. Here, the house chef creates exciting, high quality dishes consisting of sustainable produce.
Whether you are looking for catering for a conference, a location for a reception, or a way to spoil your guests with a galla dinner at Musikkens Hus, Musikkens Spisehus ensures that everyone has a wonderful experience.
Accommodation
Musikkens Hus does not offer any accommodation, however it is located within close proximity to multiple hotels.
Musikkens Hus will make a difference
The Foundation of Musikkens Hus is built around the fact that culture must be sustainable and contribute to creating both environmental and social change. To meet the environmental, the focus has been on reducing CO2 emissions, where in 2020 Musikkens Hus received the extensive DGNB certification in gold within the category "buildings in operation", Musikkens Hus is the first concert hall in Denmark to become DGNB-certificated.
Other possibilities
Musikkens Hus is the perfect place to combine your conference with a concert, tour of the building, wine tasting, a rhythmic or musical feature or even a walk-and-talk on the gorgeous waterfront. 
For those guests arriving at Musikkens Hus by car, it is possible to park in the parking garage, Kulturen, right next to the building.
Due to its central location, Musikkens Hus is only a few minutes away from Aalborg's cultural experiences, shopping options and hotels.