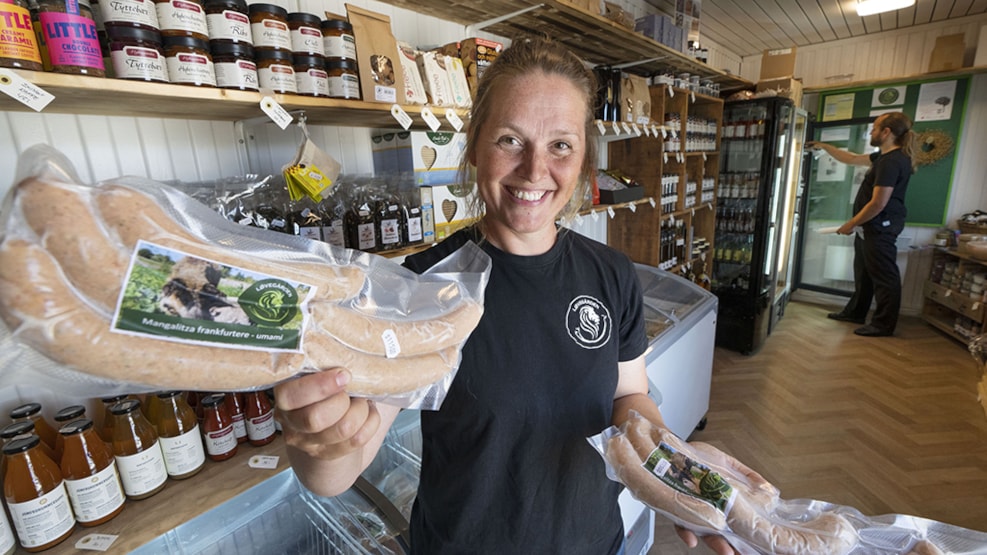 Løvegårdens Landhandel (farm shop)
Løvegården's Landhandel is a charming farm shop with a wide selection of delicacies, specialty goods, and seasonal vegetables.
"In the lovely farm shop, there is a strong focus on quality, organic products, gluten-free items, and a love for animals.
You can purchase meat from the farm's own goats and pigs, as well as fresh grass eggs from the chickens. You can also buy spices, oil, jam, beverages with and without alcohol, candy, snacks, and much more.
What's truly special about the farm shop is that all products are gluten-free. This includes items that are naturally gluten-free, but there are also many gluten-free specialty products such as bread, cake, flour, pasta, beer, cream puffs, chicken nuggets, cookies, and more.
From the shop, you can see the meadow with lively goats, the field with happy pigs, and the camper with nature-loving chickens. If you want to get up close, you can book a tour or participate in one of Løvegården's events, which include guided tours.
During the months of November and December, there will be various Christmas events with the sale of Christmas trees, greenery, decorations, and other holiday items.
The farm shop is open every day from 08:00 AM to 08:00 PM
The life on the Farm
Some of the farm shop's vegetables are grown in the fields at Løvegården. No pesticides or artificial fertilizers are used for the vegetables. To offer a wider range of produce, Løvegården has partnered with other local vegetable producers.
In addition to vegetables, there are woolly pigs in the fields. The pigs live in movable huts, allowing them to be easily moved to new areas with green grass and herbs. There's plenty of space for playing, digging, and exercising.
On the meadow, the goats reside – they also live in movable huts, so they can be shifted from pasture to pasture. The goats help keep the grass and undergrowth in check, creating space for a greater variety of vegetation, which in turn provides food for different animals and insects.
The chickens live in a camper with a movable electric fence around it, so they can also be moved to areas with plenty of green to eat. The green grass and herbs that the chickens consume result in egg yolks that are more orange. Because the chickens always have access to fresh green grass, we call our eggs 'grass eggs'."