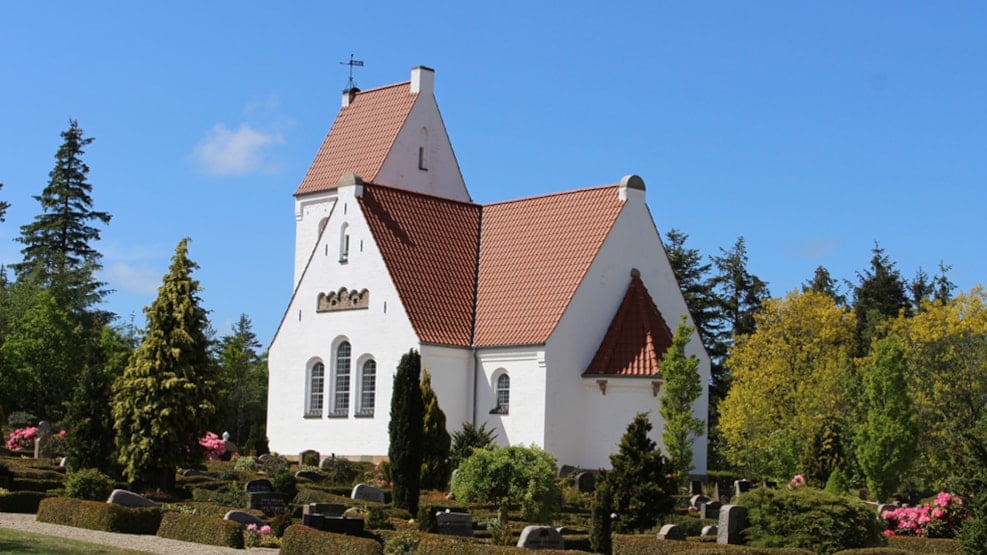 Lønne Church
Lønne Church is located in an open landscape between a large cottage area. The church was built in 1904, as a replacement for the medieval church in Lønne.
Lønne Church was consecrated in 1904, as a replacement for the medieval church, which had become so dilapidated during the 19th century that it was decided to demolish it.
The old church was built of beach stone, a little tuff, granite and without a tower. Its location is marked on the old cemetery, about 200 m south of the current church. In the new church, granite and tuff were recycled. The church itself is cruciform with a semicircular apse to the east and a tower with a porch to the west. The church was built according to drawings by the local-born architect J. Magdahl Nielsen.
The altarpiece in the church is composed of parts from the old church's late Gothic wing altarpiece from around 1475. The same applies to the church's altarpiece front with renaissance reliefs from around 1630, and the pulpit from 1582 with the priest Jens Hansen Rusk's name features. Debris was burned in 1611 for witchcraft.
In addition, Lønne Church shows how it was built in the open landscape, which today has large holiday home areas southwest, south and southeast of the church. Therefore, the church's surroundings are protected to ensure a beautiful entrance - and view into the church. The conservation itself also includes the small shallow lake, which is located west of the church.
Lønne Church is located 4 km from Nørre Nebel in Varde Municipality.
Find more information on Lønne Church's website.