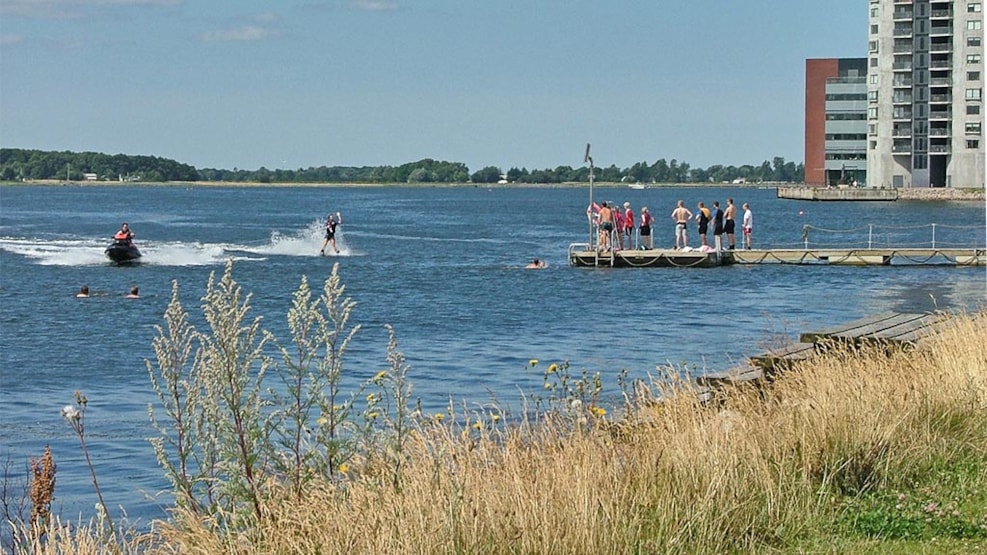 Lindholm Beach Park
Lindholm Strandpark is an 8 hectare public beach park which allows you to go for a swim in the fjord, go for a walk by the water, or get away from the city noise while still being close to the city.
Close to Aalborg and the Limfjord you will find Lindholm Beach Park. Situated across the water from the western part of Aalborg and 500m from Nørresundby Centrum the beach park is the perfect hideaway from the city noise while still easily accessible from the city center. A perfect place to enjoy a picnic or watch the sunset over Aalborg and Egholm Island.
Activities in Lindholm Beach Park
In the beach park there are many different activities, the main one is the pier, giving you the opportunity to take a dip in the Limfjord. You will also find public workout equipment, a beach volleyball court and a pathway going besides the water through the entire park, this path gives a great opportunity for a nice run by the water.
Practical information
Lindholm Beach Park is easy accessible from Aalborg, with parking possibilities and close proximity to bus stops and a 10 min. walk from the train station. From the train station you can grab a  bus no. 12, 13 and 6, which all connects Nørresundby to Aalborg. If you choose to go by foot or bicycle, the amazing walk across the new footbridge, Kulturbroen, which connects Nørresundby to Aalborg, is a 20 min. walk with views of Aalborg and Nørresundby from the water.
Read more about Lindholm Fjordpark near Aalborg…