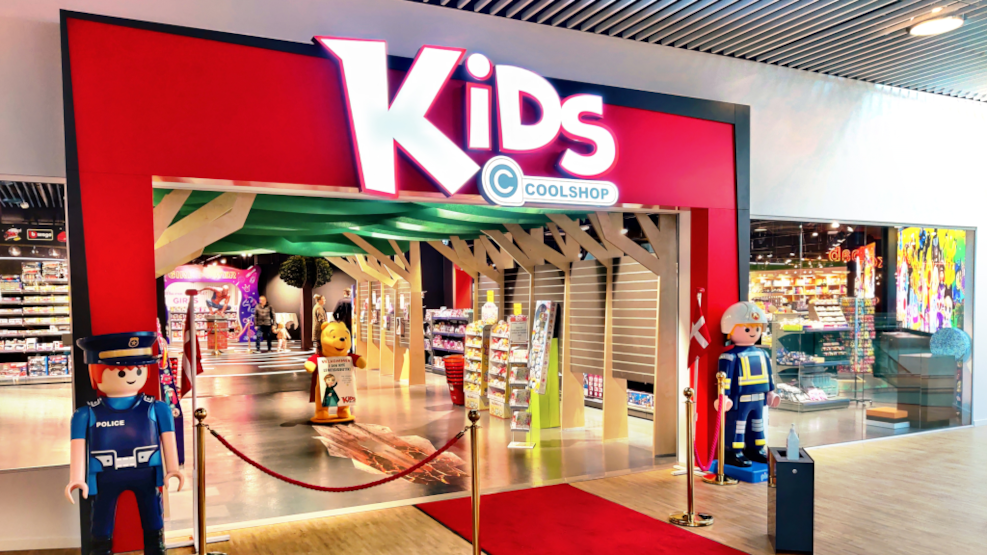 KiDS Coolshop Horsens
KiDS Coolshop Horsens is more than just a toy store. It is a 1.400 m2 toy universe where children get to play with the toys. In addition to seven separate toy sections with toys and games to suit all preferences, you can also visit a small toy museum.
Buying toys should be an experience
It is not without reason that KiDS Coolshop Horsens has been crowned as Denmark's best mall store and won a Nordic innovation award. This toy store on the 1st floor of the local shopping mall, Bytorv Horsens, is arranged in such a way that children will likely say 'wauw' when they enter – and probably their parents too. The store has seven separate experience universes located around a circular roundabout in the middle of the store.
At Kids Coolshop they aim to ensure that children will have a good experience when they visit. Therefore, it Is possible to play with the toys. And there is plenty of space for playing in the spacious store.
Mommy, where should we go first?
Yes, there is plenty to see. Visit the adventure section and Dino World. But beware! A huuge tyrannosaurus rex is rumoured to live in there. Also, visit the Space & Race section with a wide variety of vehicles, action figures, Pokemon, and space toys. Or go to the Girl Power section with lots of princess atmosphere, glitter, and pink colours. And why not stop by the big LEGO section that has an impressive selection?
Need to unwind? Then go to the children's library with a good supply of children's books and school bags.
And remember to check out Peter's toy museum before heading home. Here, you can see toys from when mom and dad were children – or even "ancient" toys from when granny and grandpa were young.
Opening hours
KiDS Coolshop Horsens is open seven days a week. You can see the exact opening hours on this page.
Events for children are regularly organized in the shop. Stay updated on future events and offers on KiDS Coolshop Horsens' Facebook page.
You will find KiDS Coolshop Horsens on the 1st floor of the shopping mall Bytorv Horsens in the centre of Horsens. Take the escalator to 1st floor, turn right and venture into a world of exciting toys.
Go treasure hunting in Horsens
Pick up a treasure map at the counter in KiDS Coolshop Horsens, and go on a free treasure hunt for children in Horsens. If you answer all the questions and hand in your treasure map at the counter, you will get a lovely gold medal as a reward. Read more about the Horsens Treasure Hunt on this page.