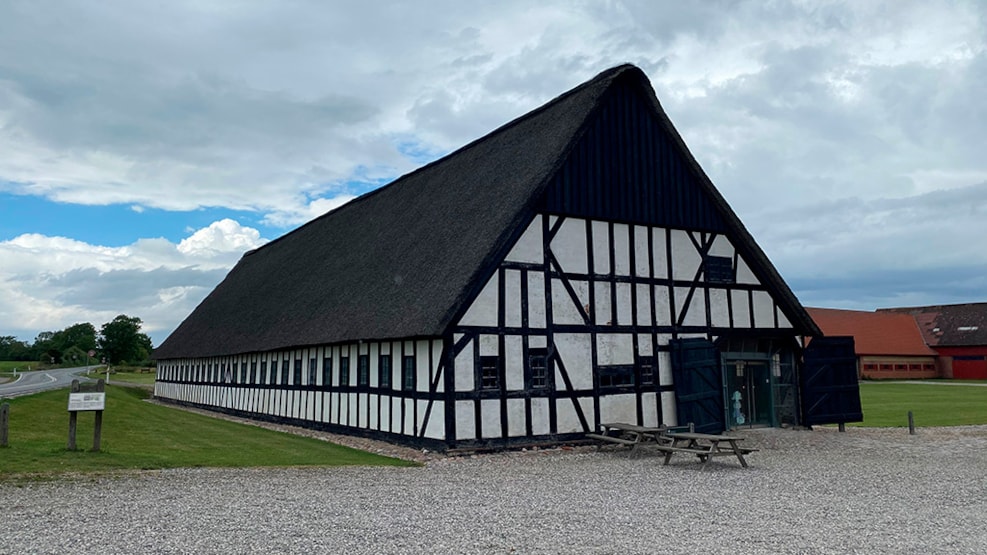 "Karlsladen" Visitor Center - Nationalpark Mols Bjerge
Karlsladen is a part of the modern Kalø Gods (manor) near Rønde. Today, this barn serves as the Danish Nature Agency's visitors centre, housing an exhibition about the nature and culture of the area, with special emphasis on prehistoric Denmark and the history of Kalø.
History told in a 300 years old barn 
The barn was designed with gates on either side so that carriages could be driven into barn to unload and then out again on the other side. Oak wood structures have been preserved in the original three storeys as they were built in 1727.
Farm building of Kalø Castle
The manor was established as farm buildings for Kalø Castle. Kalø was transferred to the King's bastard son, Ulrik Frederik Gyldenløve, in 1661. It was during Gyldenløve's possession that the run-down castle fell to ruin. 
The most renowned period in the history of the manor came after 1825, when the manor came in the possession of the Holstein von Jenisch family. After the German occupation of Denmark in 1945, the manor was confiscated by the Danish State because of the family's affiliation with Germany.
Karlsladen Visitors Centre is open daily from 9:00 am - 9:00 pm.
Free entrance.
See what others are sharing on Instagram