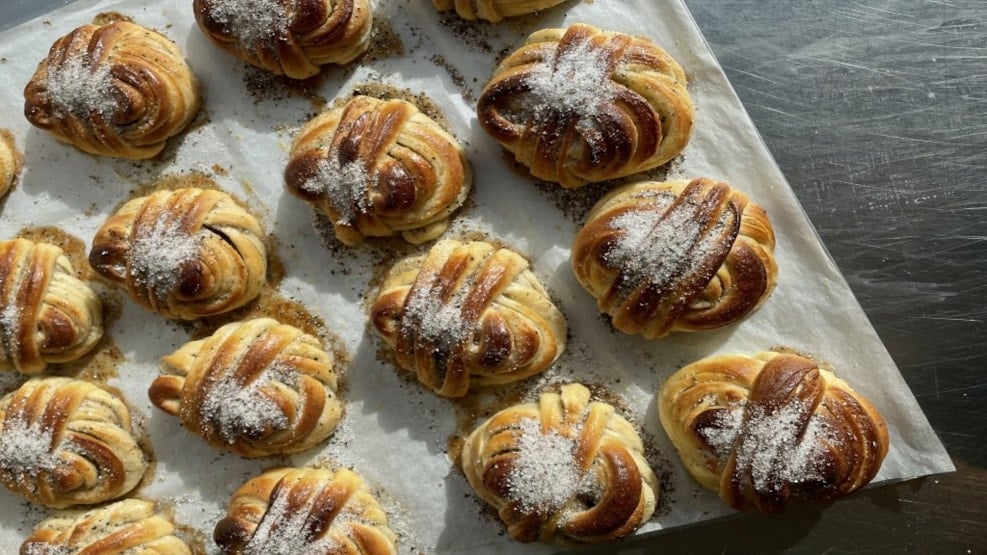 Juno the bakery
Are you wondering where to enjoy one of Copenhagen's best cardemom rolls? In the heart of Østerbro you'll find Juno The Bakery, which opened back in 2017 with simple pastry of high quality.
Juno The Bakery - a simple selection of pastry and of high quality. Stop by the bakery and enjoy freshly baked pastry
Many years ago the former cook of Noma, Emil Glaser, was missing cardemom rolls in the bakeries of Copenhagen. Emil Glaser grew up with cardemom rolls during his childhood in Sweden and was therefore determined that cardemom rolls should be a part of the sortiment at Juno, which opened in 2017.
At Juno you'll find pastry, which is made by carefully selected and organic ingredients, with focus on the tasting experience. At Juno everything is freshly baked several times during the day and you'll find both sourdough bread and buns, pistachio croissants and Juno's iconic cardemom rolls.
The bakery is located at Århusgade, which is close to Østerbrogade. Pick up your pastries at Juno and enjoy it in the surroundings of charming streets of Østerbro.