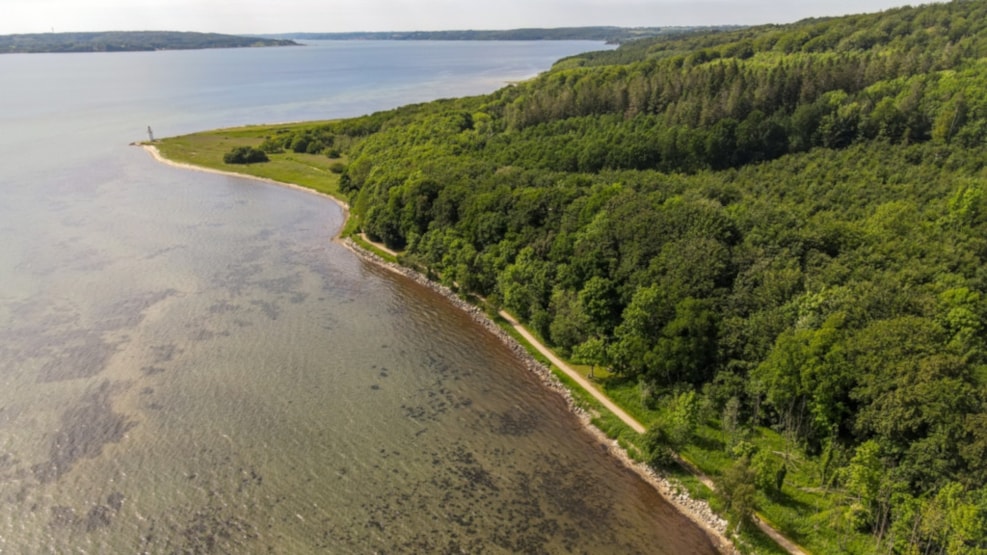 Inshore fishing on the north coast of Vejle Fjord
Vejle Fjord is the fjord in Denmark with the highest concentration of sea trout and fjord trout. Along the stunning, forest-covered northern coast, there are several interesting fishing spots where the chance of catching the big fish is particularly high.
Fishing Spots around Vejle Fjord
Vejle Fjord is renowned for its substantial population of sea trout, owing largely to the presence of Vejle River. The fjord is characterized by periods of exceptional fishing experiences, while at other times, the sea trout seem more elusive to anglers. Despite its somewhat variable nature, fishing in Vejle Fjord is highly recommended.
Fishing at Rosenvold
Rosenvold is a small promontory featuring a beach, a small marina, and a campground. It is an excellent year-round fishing location, allowing anglers to fish around the promontory. The varied seabed with prominent reefs and bays often attracts sea trout close to the shoreline. Optimal conditions prevail during low tide, especially for reef fishing.
Fishing must be conducted east of Rosenvold Harbour due to preservation regulations near Rosenvold Stream. Free parking is available at the harbour.
Fishing at Stenhøj Beach/Staksrode Forest
Stenhøj Beach lies beneath the dramatic cliffs of Staksrode Forest, offering a serene natural setting amidst fallen trees from the cliffs. The seabed at Stenhøj presents diverse conditions—ideal for sea trout—with areas of seaweed patches, and larger stones. While wading might be challenging, the varied seabed ensures a diverse fishing experience and optimal sea trout catch opportunities year-round. Additionally, during the season, there are good chances of catching garfish and mackerel.
Stenhøj Beach is an intriguing spot worth visiting. It remains relatively peaceful and is not overly crowded with other fishermen. Park your vehicle at the forest parking lot at the end of Staksrodevej. From there, descend via zigzag stairs along the steep cliffs. Exploring the signposted trails in the forest before heading back is highly recommended.
Fishing at Daugård Beach
Daugård Beach is a popular bathing spot often crowded with beachgoers in the summer. However, there is ample space for fishing both east and west of the beach. The seabed at Daugård Beach varies, ranging from fine sand to stones, seaweed belts, and reefs. The location offers decent winter fishing opportunities around the reefs. Generally, it's best when the wind is from the south or west. Note the preservation regulation at Rohden Stream to the east, allowing movement only 300 meters in that direction. Towards the west, there's a preservation zone 1 kilometer from the beach, offering excellent sea trout water.
Other Fishing Spots in the Area
For additional fishing spots and inspiration, this page on coastal fishing in Kystlandet provides information about this section of the Jutland east coast.
Experiences around Vejle Fjord
This page offers insights into accommodations, activities, dining options, and natural areas on the northern side of Vejle Fjord.