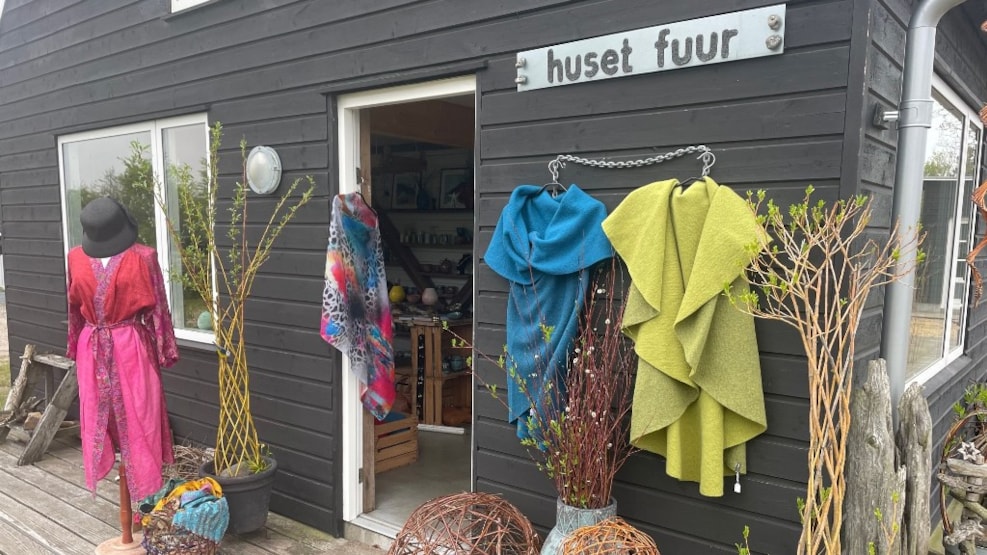 Huset Fuur - art and design
Welcome to Huset Fuur, where you will discover a variety of designs in clothing, ceramics, and other unique artworks.
Ea owns "Huset Fuur," a place where you can find exciting art, including her own work, as well as dresses and scarves.
Her main product right now is the 'Mulchoen.' It is unique in its simplicity and offers countless possibilities. It can be worn both casually and for special occasions. Time and time again, people are amazed and delighted by it. It can be used by anyone and easily becomes a staple in one's wardrobe.
Ea personally crafts the Mulchoen using boiled and felted high-quality wool, offering it in more than 30 colors. She also creates hats, wrist warmers, ponchos, skirts, coffee and tea cozies, and more from the same wool.
The Mulchoen is the reason why Ea now has her own shop on Fur, where she is a happy full-time islander.
Feel free to visit the store, where Ea is happy to demonstrate the versatility of the Mulchoen. Huset Fuur is open most days during the high season from 11 am to 5 pm, and otherwise when the flag is out.