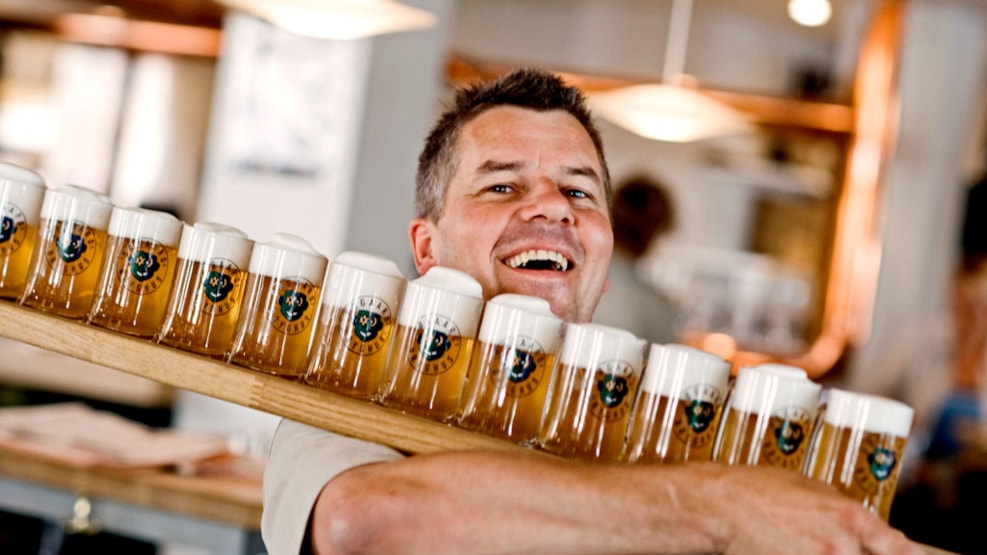 Hr. Søgaard - Gastropub
Hr Søgaard Gastropub perfectly combines a brewery and restaurant. From its central location in Aalborg's cozy square 'C.W. Obels Plads', you can enjoy a delicious meal and a fresh beer brewed on the spot
During the summer, Hr Søgaard Gastropub is an ideal location to enjoy a delicious meal in the sun. In the winter, you can enjoy pancakes and hot chocolate in the warm and welcoming facilities inside that offer good accessibility for wheelchair users.
Brewery and restaurant in the same building
The brewery is located in the basement, which makes it possible to follow the brewing process through the glass wall. Furthermore, the facilities offer an assembly room, which can be booked for meetings with a capacity of 80-100 persons. Guided tours and tastings are also offered for groups of up to 200 persons.
The restaurant can accommodate approximately 125 guests, as well as a bar with a capacity for around 50 persons.
Missing Bell Brewpub
In the neighbouring facilities you find the "Missing Bell Brewpub". Here, you are guaranteed a home-brewed beer flow from one of the 24 different taps on the tap list.
The facilities have more than 70 seats from which you can enjoy a conversation with a friend, or watch live sports on one of the three TV screens. Dining from the menu of the restaurant is also possible in the pub.
- Remember to ask in the bar for the curious story about the pub's name.
Søgaards Bryghus is open every day – however, with varying opening hours, which can be found on their website.
Read more about Hr Søgaard Gastropub in Aalborg…