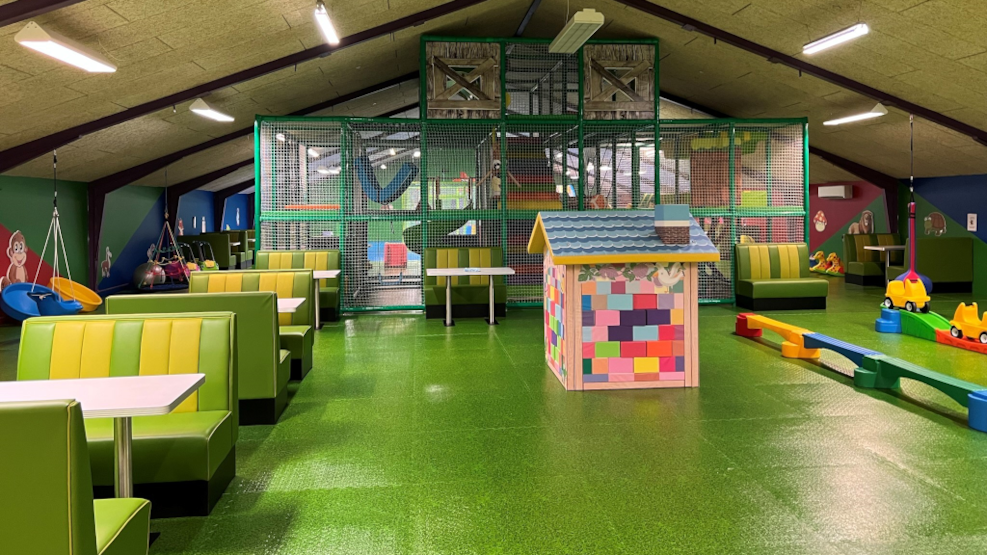 Hermans Hule Horsens
This play centre in the outskirts of Horsens offers lots of activities and games for children. Here, the youngest members of the family can play for hours at an affordable price.
Bring your children to "the cave"
Your children will love you if you bring them to Hermans Hule. This 830 m2 play centre in southern Horsens offers a variety of tools and play towers, designed for children aged 2-10. There is a great variation in play equipment. Therefore, children are kept active for a long time. There is plenty of space for children to safely shoot their bolts, but also for immersive and calm playtime.
The centre is equipped with sofas and chairs where parents can relax while keeping an eye on the children. There is also a café where you can buy ice-cream, snacks, and drinks. Feel free to bring your own food and enjoy it in the café.
A wide variety of play equipment
The play centre has three big play constructions that allow children to climb, slide, and explore. The biggest one, the jungle cage, tends to catch children's eyes straight away, but there is also a ball pool, swings, playhouses, a big foam tractor, children's cars and much more. Safety is given pride of place at all, so you do not have to worry about letting the children play freely.
Not all toys need to be smart and expensive in order to be valuable for children. Therefore, you will also find regular toys in Hermans Hule that you can find in any toy store. For example, dolls, LEGO Duplo, BRIO train tracks, Soldier Force, kitchen toys, lawnmowers, and a DIY workshop with lots of play tools.
In other words, there are toys to suite all preferences – boys and girls – small children as well as bigger children.
A different kind of play centre
At Hermand Hule you can choose to pay an entry fee of 100 DKK per visit per child. Adults can come along for free.
Alternatively, you can join Hermans Hule which gives you the right to visit the play centre as much as you want. The price is 90 DKK per month per child and 140 for two children.
In other words, it is cheaper to get unlimited access to the centre than visiting just once. No matter what, we promise you that you get value for money when visiting Hermans Hule. It is without any doubt the cheapest chain of play centres in Denmark.
You can park right next to the entrance, and city bus 4 stops just 100 metres away.
Celebrate birthday at Hermans Hule
Do you want to host the perfect children's birthday party? Then Hermans Hule might be the solution for you. The price for a birthday party is 500 DKK on weekdays and 700 DKK on weekends. Hermans Hule will set the tables and prepare everything, but you will bring your own food. Read more about children's birthday parties on this page.