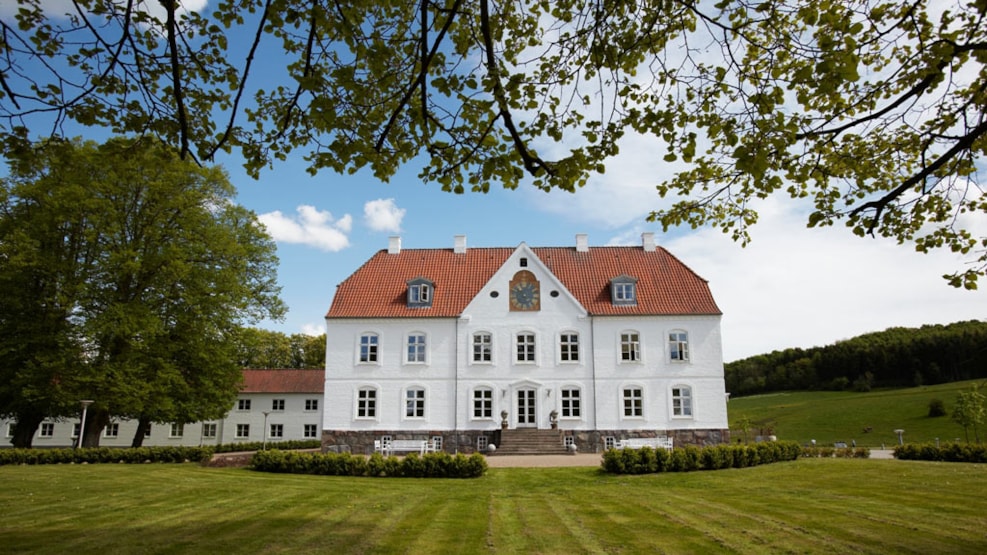 Green Experience
Haraldskær Sinatur Hotel & Konference
Haraldskær Sinatur Hotel & Conference is beautifully situated in the lush and idyllic Vejle Ådal valley. Historically, Haraldskær and the valley are closely associated with the royal town of Jelling. The main edifice dates back to 1434.
The heritage-listed castle is located in the heart of the river valley and welcomes visitors to bright contemporary conference facilities, splendid day-lit rooms, a banqueting Knight's Hall and other magnificent salons. Here you can savour the moment and enjoy fine gastronomy rooted in the riches of nature.
The cuisine at Haraldskær is locally inspired and made with organic seasonal produce. Enjoy an evening at Haralds Kælder, a vaulted cellar restaurant that inspires relaxed and intimate dining with a good glass of wine.
Why not take a break and go angling in the Vejle Å river – we offer fishing licenses.
At Haraldskær you can enjoy nature up close...
Here we have plenty of space, both indoors and outdoors, for peace and quiet

- Plenty of opportunities for cycling, walking and running
- Bicycles for rent
- Haraldskær has the angling rights covering a section of the Vejle Å river
- Free parking
- 51 bright double rooms
- Green Key eco-labelled
- All rooms have: shower, toilet, TV, radio, telephone and wireless Internet
- Two magnificent salons and 1 basement
- 10 conference rooms
All room prices include breakfast buffet.