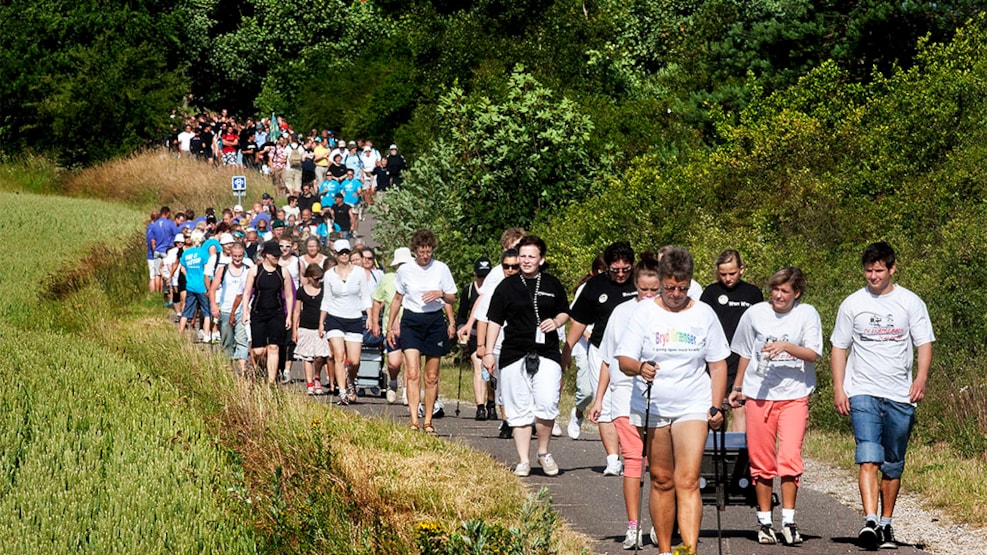 Hærvejsmarchen
HÆRVEJSMARCHEN is an organized march through the beautiful scenery in and around Viborg.
Whether you are visiting from distant parts of the country or you are one of the locals, Hærvejsmarchen in Viborg is an outstanding experience of international dimensions.
Join in – bring your family, friends or that special someone and take in Viborg's beautiful surroundings, cultural scene, intense history as well as passion for life – not to mention the lovely breath of fresh air.
A Town Fair Just Like in the Good Old Days
It has been a long-standing tradition in Viborg to have a big town fair in the days leading up to and during the Hærvejsmarch, turning the historical town's squares into venues for a big, festive event. Thousands of people meet just like in the good old days, when the Snapsting was held in Viborg. This was a tradition that brought people together from all over Jutland to trade goods, to have fun and perhaps to settle a matter or two with the legislative assembly at Tinge.
Nice Facilities along the Routes
Well-organised pit stops have been set up along the routes, and here, you can buy food and beverages. The available portable toilets are in orderly conditions just as signpostings and route markings are easy to follow. Checkpoints are set up along the way to make sure that everyone has been through the laid out route, and when you make it past the finishing line, you have earned your very own medal.
Enjoy the "Hærvejsmarchen" in Viborg - 23th, 24th and 26th June 2023
Choose from various routes / walking distances: 10-20-30-40 or 45 kilometers.
After the march you are welcome to be part of the town festival "Snapsting" - free concerts, entertainment, food and drinks.
See what others are sharing on Instagram