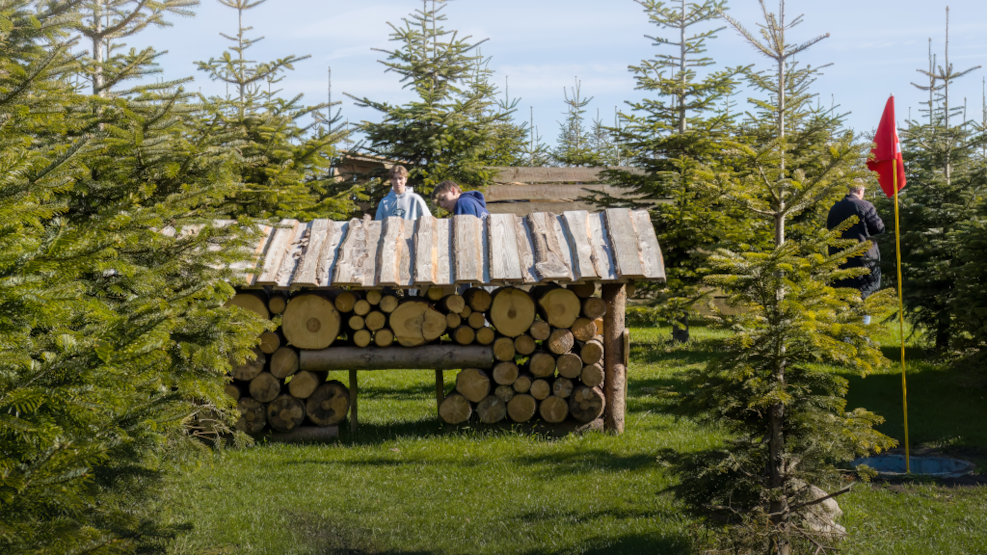 FootGolf Fredenslyst
Visit this super cozy footgolf course located between Odder and Horsens. The course is beautifully situated on a pine plantation and offers a lovely setting for a match of football skills in the great outdoors.
Fun activity for the whole family
Visit this footgolf course near the village of Oldrup, where a Christmas tree plantation has been transformed into a cozy setting with public access to play this enjoyable game. So gather your friends or family for a few hours of outdoor entertainment in the green surroundings.
The course at Fredenslyst has 18 holes, spanning a distance of 900 meters. It offers plenty of fun, easy, and challenging obstacles within the pine plantation, providing sheltered areas and cozy corners.
About footgolf
As the name suggests, footgolf combines elements of football and golf. You play with a leather football and aim to kick the ball into the holes in as few kicks as possible. Footgolf also incorporates elements of mini-golf, with various types of obstacles to overcome on several holes. Anyone can participate in footgolf, but having some ball skills will naturally be advantageous, as controlling the direction and speed of the ball is key. It's a relaxed and informal activity, allowing for conversation and playfulness.
How it works
At Fodboldgolf Fredenslyst, the course operates on a self-service basis. Simply show up at the address and follow the instructions. Payment can be made via MobilePay or in cash. After payment, you are free to use the facilities for as long as you like. Balls, scoreboards, and writing utensils are provided. It is recommended to wear regular footwear, as football boots are not allowed.
The facility is designed to accommodate non-players as well, ensuring that everyone can enjoy themselves. There are several cozy corners with tables and benches, as well as a picnic area with a grill, which is free to use. Additionally, you can play petanque, kongespil (traditional Danish game), and stigegolf.
Feel free to bring your own drinks and food, and make use of the grill. You are welcome to use one of the wagons to transport your food into the terrain, where you can enjoy it in peace and tranquility.
Prices and opening hours
Fodboldgolf Fredenslyst is open during the summer season from May 1st until the end of October, from 9 am to 9 pm every day.
Adults: 110 DKK
Youth 6-15 years: 55 DKK
Children 0-6 years: Free
Seniors (+65 years): 55 DKK
Season pass: 500 DKK
About Fredenslyst
Fredenslyst is the name of a farm that originally stood in the village of Oldrup. However, in the mid-1920s, the farm burned down, and the then owners, the Reffenstein family, chose to rebuild the farm in the middle of their field, where it still stands today.
The current owners purchased the farm and the 16,000 square meter property in 1998. In 2011, they decided to start a Christmas tree plantation, offering "cut-your-own" trees and a Christmas shop during the holiday season.