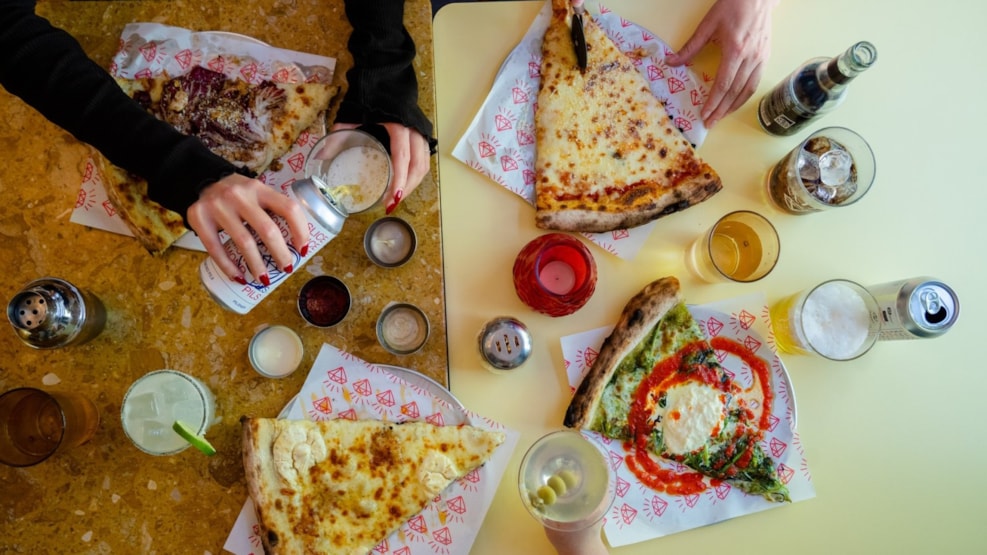 Diamond Slice
You no longer have to cross the pond to get famous New York style pizza. Branded on social media as "the best pizza in Copenhagen," Diamond Slice has opened its doors in the heart of the trendy Nørrebro area.
If you have ever watched an American movie and dreamed about eating the famous New York style pizza slice, you can do it in Copenhagen. Delicious, cheese filled, sourdough based pizza, where you can either by slices or a full pizza, is now a must-visit for both tourists and locals.
Several of their ingredients, such as the pepperoni and blue cheese are made in Denmark to accommodate the Danish tastebuds, but without compromising the New York pizza style. Cheese is in focus at Diamond Slice, and their "Hot Honey" with three different cheeses is a showstopper. There are a variety of vegetarian options, but also pizzas that will satisfy any meat lover's heart.
Unlike many other pizza places, Diamond Slice have introduced starters on their menu. You can now start your dining experience with delicious olives, stracciatella, and much more.
Diamond Slice also has a broad selection of beverages, where their own "Diamond Pilsner" is a must-try. If you prefer a cocktail with your pizza, you can spoil yourself with a range of different drinks, such as a New York Sour or a Negroni.
Located in beautiful surroundings right at Blågårds Plads close to the Copenhagen Lakes, there are several possibilities of enjoying your pizza and drink in the Copenhagen landscape.