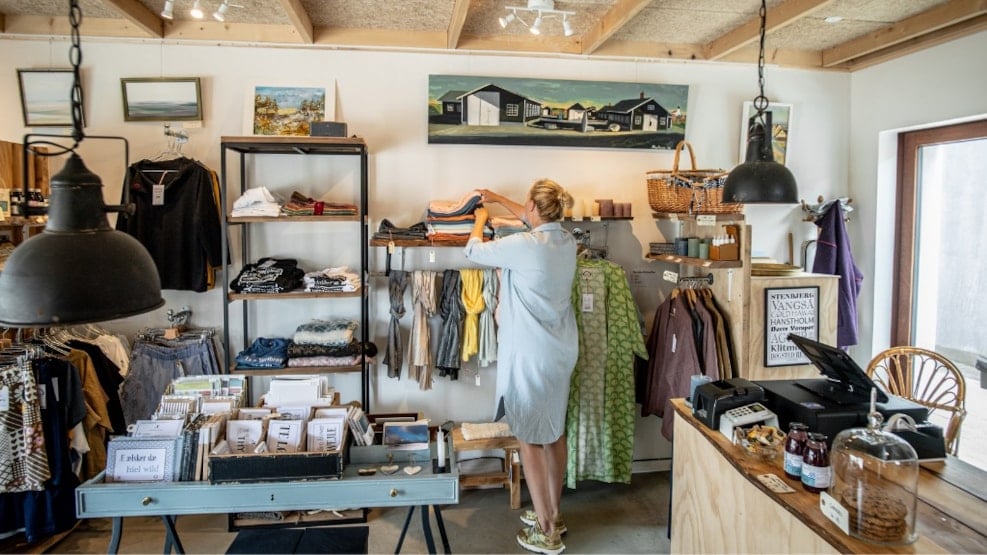 Design Agger
Slow fashion and unique design shop in Agger
In Design Agger, you will find carefully selected goods within handicrafts, ceramics, photo art, quality knitwear, posters, clothes, scarves, bags, glass, wire baskets, jewellery, applied art and local delicacies.
Many of Design Agger's items are made in Denmark or are Fairtrade or climate friendly, and you will generally find things that are not mainstream items. Many of the items are completely unique, or signed and numbered. You can buy gift baskets with special products from Thy and the surrounding area.
A passion for recycling and responsible use of existing materials has a big impact on the designs and production of sustainable quality clothing in our own sewing room, which is located next to the store. The clothes are upcycled, and we strive to be able to offer our customers an environmentally sound alternative to the rest of the clothing market.
Opening hours
Open every day from 10.00 to 17.00 in high season.
Open Wednesday and Friday from 14:00 to 17:00, as well as Saturday 10:00 to 16:00 and Sunday 13:00 to 16:00 out of season.
Contact Design Agger v / Berith Fyhring on telephone number (+45) 21 38 80 59.