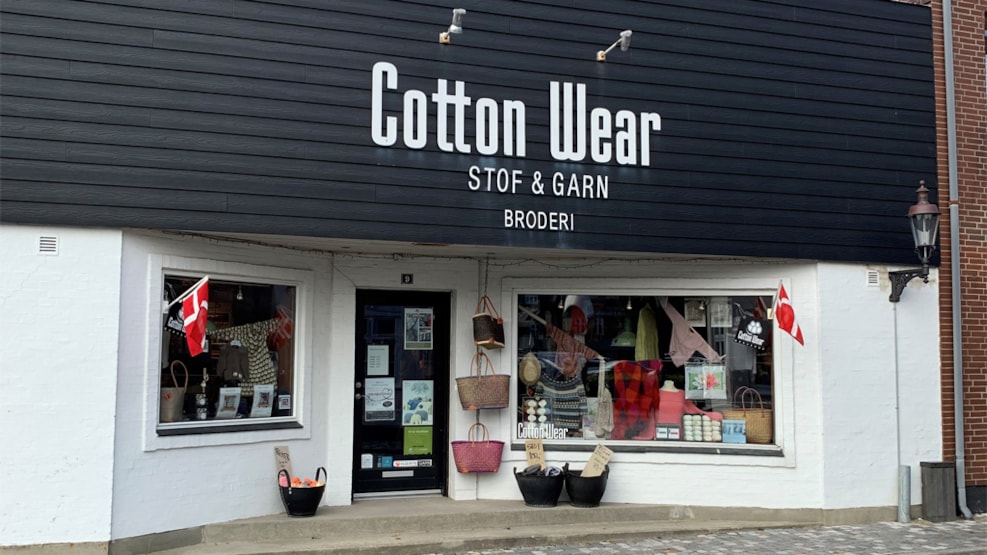 Cotton Wear
Cotton Wear is an exciting and vibrant store full of inspiration - the store's staff is happy to help you all the way from everyday tasks, to inspiration and all the way to the final result.
Cotton Wear is a lovely specialty store located right in the center of Varde with parking options nearby, on Smedegade.
The shop is filled with many beautiful fashion fabrics, for all kinds of clothing, home decor, tablecloths, bed linen etc., you will also be able to find a large selection of yarns in different qualities, Heart yarn, Hanne Falkenberg Design, Karen Noe Design, Kauni, skins, fur, embroidery and a large selection of sewing accessories, patterns from onion, and much more.
Cotton Wear places great emphasis on personal service in a lovely atmosphere and is bursting with great ideas when it comes to fabric, yarn and skins. If you want to develop your personal style, Cotton Wear is happy to give you creative suggestions or make your own ideas a reality. Cotton Wear also likes to sew your clothes, party dresses, etc., change a zipper or put on trousers. Yes, Cotton Wear even offers to knit a sweater or something for you if you wish.