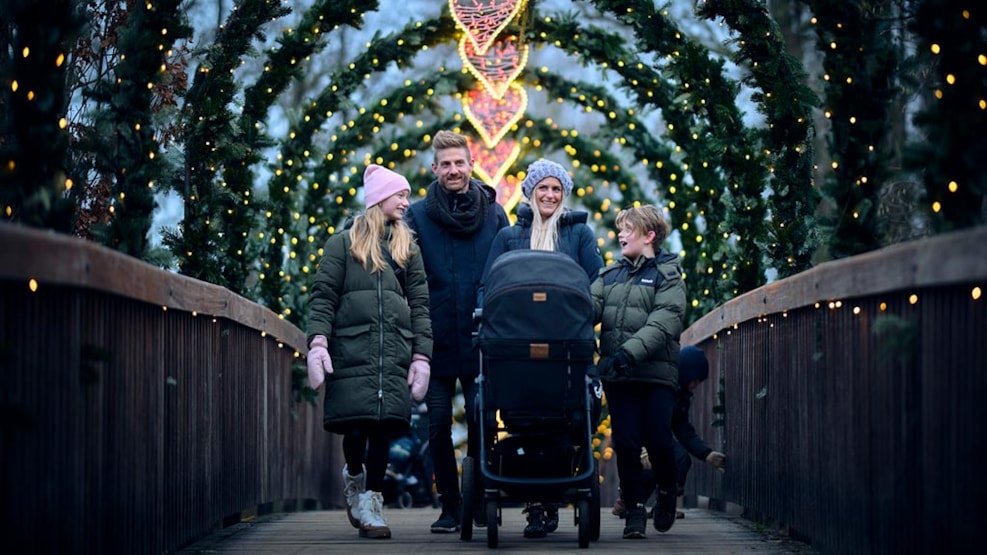 Christmas in Odense ZOO
Christmas in ZOO welcomes you to this year's Christmas experience from 24th November - with lots of fun, beautiful lights, Christmas stalls and Zoofus and Zoofie on new adventures.
Christmas in ZOO opens on Friday 24 November at 4pm, when the 33 kilometres of lights and a total of 1,000,000 Christmas lights are switched on for the first time. This is followed by a whole month of Christmas festivities, which this year offers a lot of new things.

A lot of new activities
During Christmas in ZOO, we will focus on some of the many delights of Christmas with a number of brand new pop-up events where guests can explore and participate. For example, come and watch the unofficial Funen Advent wreath championship, experience the wildest Christmas table or help create a fairytale gingerbread landscape with Emil Obel, winner of DR's Den Store Bagedyst.
A new Christmas calendar
The ZOO elves Zoofus and Zoofie are back again this year - and they're bringing a brand new advent calendar with them.

Odense ZOO seems to have a new director, and the two elves find this hard to understand, because the new director is making some very strange and not so child-friendly decisions. What is it made of?

Follow "Zoofus and Zoofie - and the new CEO" every day in December on Odense ZOO's YouTube channel. The calendar also comes with a new teaching kit for primary school pupils and teachers to enjoy throughout December.
New - but also all the good old stuff
Even though Christmas this year offers a lot of new events, there are also a lot of old favourites. This year, you can look forward to seeing the zoo wrapped in thousands of Christmas lights and lots of beautiful Christmas decorations.

You can also explore the many Christmas stalls, which offer everything from gift ideas to something for the sweet tooth, and it will once again be possible to experience Zoofus and Zoofie's Santa show on selected dates.

Please note that Odense ZOO will be closed in the week leading up to the opening of Christmas in ZOO so that the last Christmas decorations can be put up. The zoo will be closed from Monday 20 November to Thursday 23 November.

The garden will reopen on Friday 24 November at 4 pm, when Christmas in ZOO officially opens.