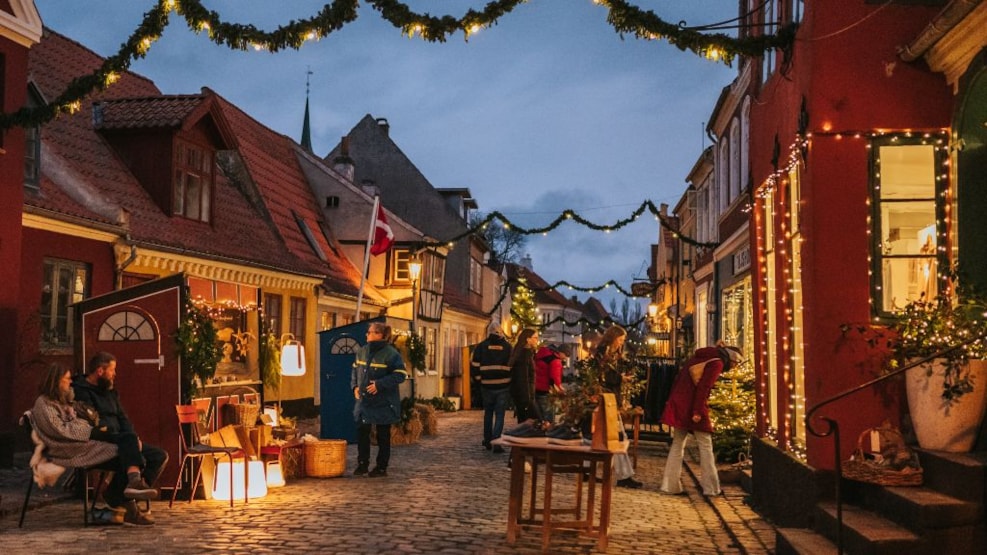 Christmas market in Ærøskøbing
Join us when Ærøskøbing opens its doors to a very special Christmas market in beautiful, authentic surroundings.
You may have been lucky enough to visit the Fairy Tale Town of Ærøskøbing one summer day; strolling through the cobbled streets eating ice cream and just enjoying the atmosphere.
But did you know that the well-preserved old market town is perfect for Christmas? Walking from the ferry up through Vestergade feels completely like stepping into a Christmas calendar on TV.
Intimate and unique setting
Ærøskøbing has for years had a tradition of hosting one of the most enjoyable Christmas markets in Denmark, however, not one of the largest. Here the setting is unique and intimate. No artificial scenery.
Shops and eateries decorate the surroundings and streets are filled with lit up Christmas stalls from which you can buy local delicacies, Christmas gifts, sweet and salty for the palate and much more.
Good service & Christmas atmosphere
From the square, classic Christmas hits can be heard from the windows of the authentic buildings, the mulled wine and the giant angel wins (a Danish deep-fried cookie) can be smelled from a long distance. It's difficult not to get in the Christmas mood.
The local shopping scene provide good Christmas gift ideas and always excellent service, and in restaurants and cafes you can warm up with good food, coffee and cake.