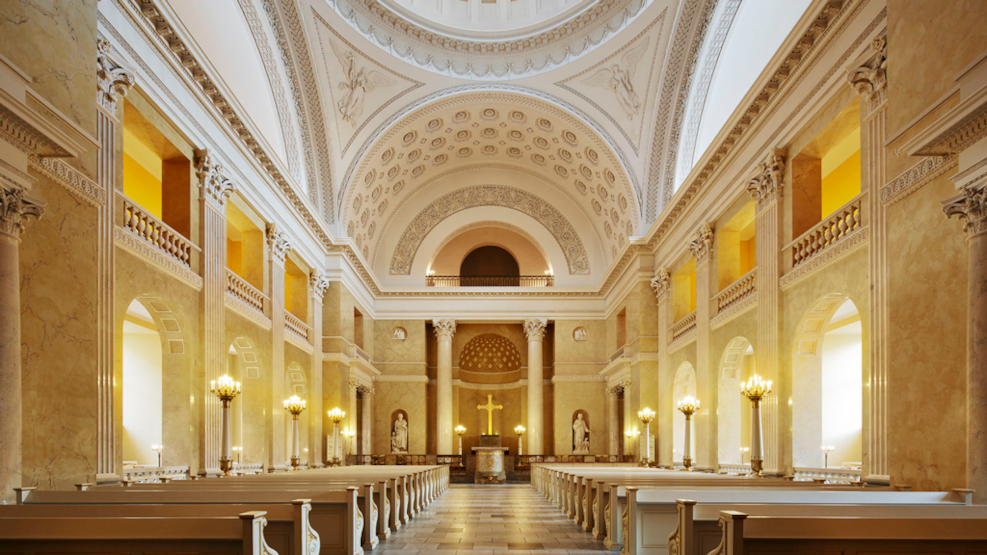 Christiansborg Palace Chapel
The history of the Christiansborg Palace Chapel in Copenhagen dates back to the time of the original Christiansborg Palace.

King Christian VI put Nicolai Eigtved, a brilliant young architect, in charge of the church's interior design. Between 1738 and 1742, Eigtved managed to create the finest Rococo interior of its kind in Danish architectural history.

When, in 1794, the Christiansborg Palace burned to the ground, the chapel also suffered great damage from the flames.

Rebuilt and burned down again

Architect C.F. Hansen, who was given the task of rebuilding the chapel, had it re-erected in the same period style as the Palace - neoclassicism. The new design featured a central chapel surmounted by a dome.

The Palace Chapel, in its present shape and style, was inaugurated in 1826. However, as recently as 1992, the fire struck again. The chapel was allegedly set ablaze by a stray firework rocket during the Whitsunday Carnival.

Unfortunately, as no architectural plans of the dome and roof construction had survived, architectural archaeologists had to systematically record all the charred remains before the formidable task of reconstructing the chapel could be undertaken.

Royal baptisms and funerals

The official opening of the re-erected chapel in 1997 coincided with the 25th anniversary of Queen Margrethe II's reign. On several occasions, the rebuilding of the Palace Chapel has been awarded top architectural honours for distinguished restoration.

Over the years, the Palace Chapel has provided the setting for royal weddings and other ceremonial events. Most recently, Queen Ingrid lay in state in the chapel before being taken to her final resting place in Roskilde Cathedral.

In 2006, His Royal Highness Prince Christian was baptized in the Palace Chapel.