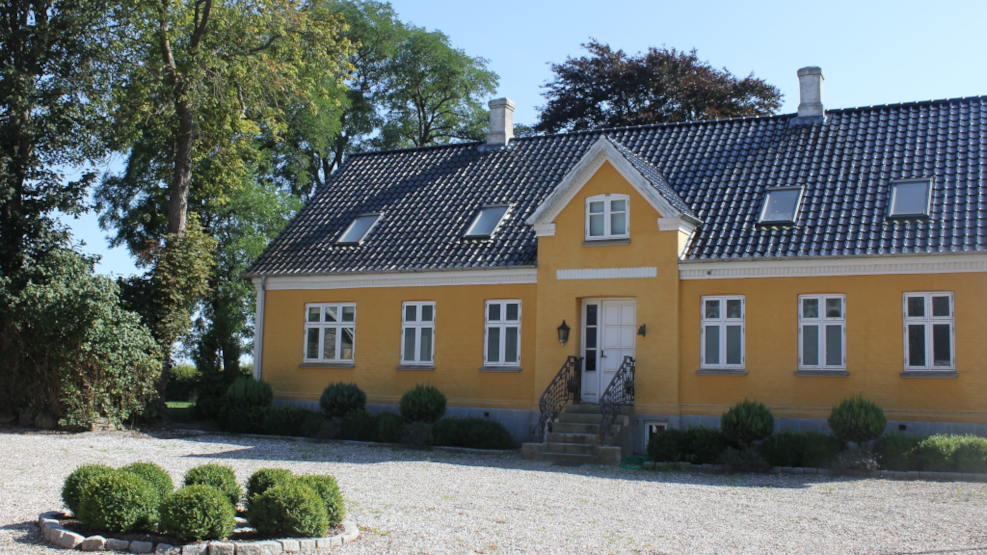 Brigsted B&B
In peaceful, rural, and beautiful surroundings, this private accommodation is located in connection with a conference center on the north side of Horsens Fjord. When you book a room at Brigsted B&B, you will benefit from the excellent facilities at the country estate and have free access to the garden and the beautiful nature.
Recharge your batteries in the countryside 
In the nature conservation area of Brigsted by Horsens Fjord, Cecilie and Bo live in the four-winged and historically preserved country estate called Østergaard. Here, they run a consulting business and a conference center, while also offering accommodation in cozy and spacious rooms.
The beautiful, almost manor-like farm features a large, park-like garden with a lake and forest that you are free to enjoy. It is located right by the popular hiking route around Horsens Fjord, Fjordminoen, and Brigsted Beach, which provides a ford to the island of Vorsø.
The delightful rooms
On the first floor of the main building, there are three rooms available for rent. The rooms are equipped with double beds and measure 14-16 square meters. All three rooms have access to two shared bathrooms with a spa bath, a large shared balcony with a fjord view, and a lovely living room with a large sofa, TV, and complimentary coffee and tea. In this living room, you'll also find the very sociable and charming cat, Norah, who loves having guests. However, this means that Brigsted B&B is not suitable for those with cat allergies. The rooms are suitable for couples or individuals. Larger families or groups of friends have the option to rent all three rooms and have the common areas to themselves.
Breakfast is included in the price when booking a room at Brigsted B&B.
Book a room at Brigsted B&B
Are you ready to book a relaxing stay in beautiful nature and wake up with a view of Horsens Fjord? Contact the owners of Brigsted B&B via email or phone, or book directly through this link.
The price is 700 DKK per night for two people in one room.
Brigsted Conference Center
In the other wings of Østergaard, the owners operate a conference center that can provide a beautiful and charming setting for your baptism, confirmation celebration, wedding, milestone birthday party, or corporate event. The conference center focuses on quality and service, ensuring that your event runs smoothly. The center can design menus and decorations for you or tailor them to your specific wishes.
You can read more about the conference center on this page.
The scenic surroundings
Brigsted is located in the protected nature on the north side of Horsens Fjord, approximately 10 kilometers from Horsens. You can follow the Fjordmino hiking route, which passes right by the accommodation, into Horsens. It is an exceptionally beautiful walk along the water. There is also a signposted cycling route that leads all the way around the fjord.
The nearest village and shopping opportunity is Søvind, 1.5 kilometers to the north. The landscape on the north side of the fjord is characterized by small manor forests, rolling farmland, picturesque villages, and hills with magnificent views of the fjord.
There are many peaceful gravel roads through a sparsely populated natural area. If you follow the trail in the opposite direction, you will reach Sondrup, which offers one of Jutland's most beautiful forests and a lovely beach with a bathing bridge.
You can find inspiration for experiences at Horsens Fjord on this page.