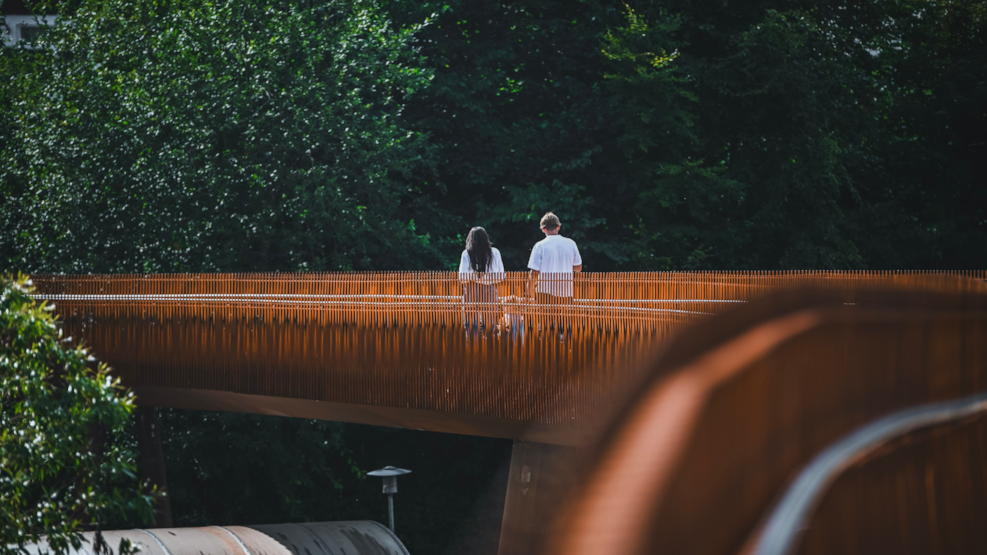 The bridge over the river valley of Grejsdalen
In the summer of 2023, a new combined hiking and cycling bridge in Vejle was inaugurated that crosses the river of Grejs Å and the Vejle-Struer railway line. Spanning 130 metres and reaching a maximum height of 5.5 meters, the bridge winds over Denmark's deepest gorge and through the treetops of Sankt Grundet Skov.
The bridge is not only a beautiful sight to behold, but also a functional pathway to be enjoyed by pedestrians and cyclists alike. The bridge connects the river valley of Grejsdalen with the woodland of Sankt Grundet Skov and is an initiative welcomed by local citizens and tourists alike, who until now have had to take major detours following the closure of railway crossings along the line in the late 1990s. The bridge is the design of Arkitema, the architectural studio behind the Mary Elizabeth Hospital (the new children's hospital at Rigshospitalet in Copenhagen), the psychiatric hospital in Vejle and the urban landscaping around LEGO House in Billund. The footbridge was designed in close partnership with COWI and CG Jensen A/S.