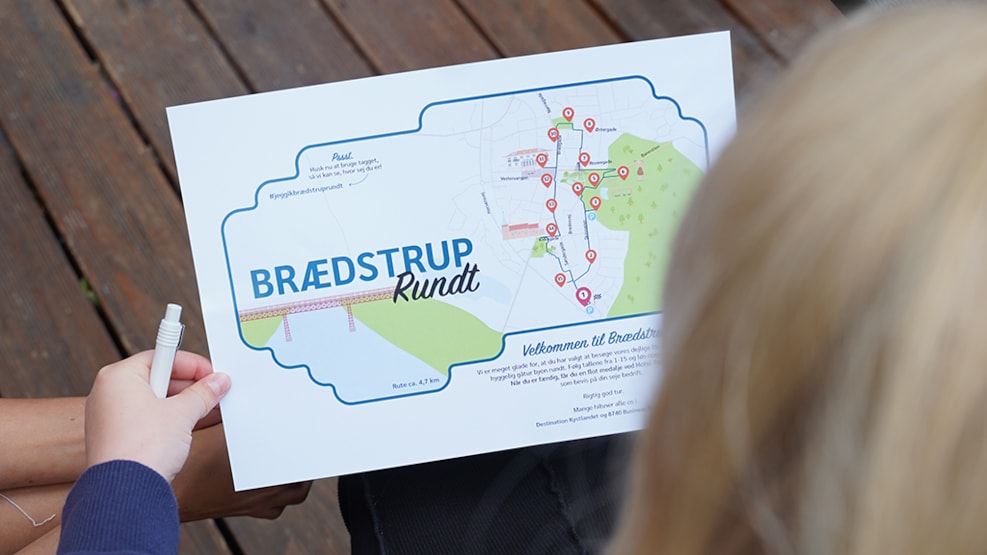 The Brædstrup Treasure Hunt
What does the troll Jensnej hold over his head? Hown many swings are on the town square? Embark on a treasure hunt in the cosy commercial village Brædstrup, and experience how much it has to offer. And you can even bring home a free gold medal as evidence.
Fun activity for all children - and their adults
Are you seeking inspiration for excursions that give you lots of fresh air and motivation to go for a walk? This free treasure hunt through Brædstrup only requires a treasure map and the desire to go on an adventure. As you make your way through the town centre, playgrounds, and nature, you will pass 15 locations where you will answer questions about what you see.
You will have plenty of quality time together as you solve the tasks – and new knowledge of a little city in beautiful nature that is definitely worth a visit.
Remember to bring mosquito repellent during summer. The little bandits have also discovered Brædstrup's scenic nature.
First step: The treasure map
First step is to get a printed treasure map. You can download a map here and print it at home. You can also get one for free in the reception at the legendary local hotel, Pejsegården. It is here at Pejsegården that you must answer the first question, anyway. Each point on the map should be easy to find but you can also choose to follow this digital map along the route.
You will end at Hotel Pejsegåprden after making your way all the way around the city (4,7 kilometres). When you hand in the treasure map, you will receive a custom made medal as evidence of your cool accomplishment.
Many more treasure hunts await
The Brædstrup Treasure Hunt is one of five fun, local treasure hunts created by Destination Kystlandet. Wouldn't it be cool to have all five medals in your collection? You will get lots of experiences along the way through the cultural city of Horsens, the holiday village Juelsminde, the railway town of Odder, and the gorgeous holiday island Tunø.
You can read more about the other treasure hunts on this page.
About Brædstrup
Brædstrup is a small town with 3000 inhabitants, but the largest town in the picturesque region Bakkelandet between Horsens and Silkeborg. The city centre has experienced transformation and beautification in recent years with lovely parks, squares, eateries with outdoor service, and interesting specialty shops. And best of all, nature is only a stone's throw away.
On this page you can find inspiration for experiences in Brædstrup.