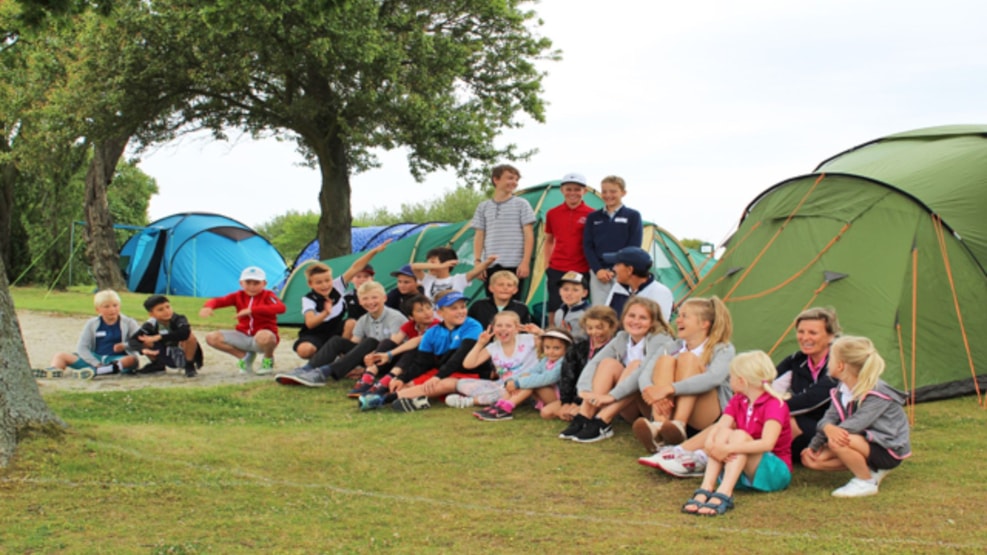 Children and Golf – a Hit on Samsø
Maybe some of future golf stars have spent their golf childhood on Samsø? Children are very welcome in the club, both as members, but also as guests on the pay & play course. Every year, the club hosts a junior camp in the summer holidays. In addition, the club is a neighbour of Samsø Efterskole where 40-50 teenagers are active on the golf course every year.
 
In recent years, the number of junior club members at Samsø Golfklub has quintupled, and many children younger than 6 years of age are interested in learning the game of the small, white ball.
Every summer, the club organizes a junior camp. In addition to children club members, children from other parts of the country also participate. For three days, juniors live in tents behind the club house and play golf most of the day. And on one day, the club organizes a night golf event where children play with luminous balls and the holes are marked with glow sticks. It is a very special sight to stand on hole 10 in moonlight and watch the luminous balls fly in the darkness.
Several volunteers and parents are involved in Junior Camp. They assist with everything from baking cakes and making breakfast to applying a bandage, motivating efforts, and carrying the golf bag when the small children are tired. For the smallest children there is more playing than technical training. There should also be time for doing somersaults, painting, and finding fourleaf clovers. For the older children, there are more competitions and more technical training. And then there are joint activities, such as putting competitions, rounds of golf and watching movies. There is room for everybody. However, children below 8 years of age need one of their parents to accompany them.
It is incredible to watch how the children have a great time across all ages and levels. Older children take care of younger children and contribute to make them feel comfortable. And according to the club coaches Jesper Rasmussen and Mette Kramer, "this is the very essence of golf: blending social and competitive elements across age, sex, level, and social background".
The Efterskole as a Neighbour
Samsø Efterskole is next-door neighbour of the golf club which brings about a basis for natural collaboration. Among the school's 165 pupils, about one fourth of them choose golf on their timetable. A small part has a golf handicap before they start, but a large part chooses to take the so-called golf license during their time at Samsø Continuation School. Other pupils are just frequent users of the par 3 course. It is evident that golf is a contributing factor in the creation of good fellowship and friendship for children and young people in the club. Some of them have dreams of becoming future golf stars; others just want to spend some nice hours in the open air together with friends and family.
Golf for the whole family
• Pay and play (par 3) for children: 37 DKK
• Junior trial membership: 500 DKK
• One year junior membership: 800 DKK
• Golf gear for rent through the club.