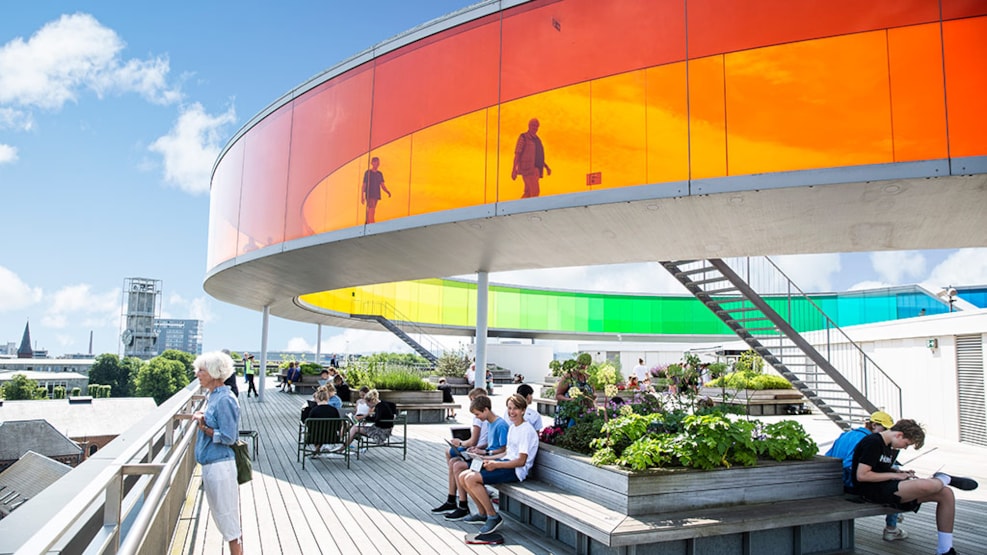 Green Experience
ARoS Aarhus Art Museum
ARoS Aarhus Art Museum is one of Northern Europe's largest art museums and one of the most visited art museums in Scandinavia. Here you can experience Your rainbow panorama, a spectacular artwork by Olafur Eliasson.
Enjoy a Michelin experience in Aarhus at ARoS Aarhus Art Museum. ARoS is the main art museum in Aarhus and one of the largest museums in Northern Europe. On the roof of ARoS you can visit the spectacular artwork made of the Danish/Icelandic artist Olafur Eliasson Your rainbow panorama.
Current exhibitions
ARoS offers a large amount of exhibitions and activities all year round, and you can follow them here or you can check out related contents below.
Art from bottom to top
In the downstairs area you can enjoy the major special exhibitions, with the 'Nine spaces' presenting international art installations. On the upper floors house the museum's own collections of art from the 19th century up to the present day.
In Your rainbow panorama you can move around in a 150 meter long, circular panoramic path with 360º views of the surrounding city. ARoS has two Michelin-stars in the Michelin attraction's guide.
ARoS Café & Orangery
Kick back and have a delicious bite to eat at ARoS' café and orangery. Enjoy a cup of coffee, have a tasty, light snack or get one of the café's dinner offers after five p.m. on weekdays.
'The Next Level'
In 2023, ARoS Aarhus Art Museum expands with a new, underground gallery as well as the new giant work of art, The Dome, a Skyspace by the American James Turrell.
'The Next Level' contains several elements, and one of them, James Turrell's The Dome, is a gigantic 40 metre diamond that allows you to look into the limitless firmament.
Please note! In the coming years, access to the museum is available from Aros Allé only due to this work.
See what others are sharing on Instagram
#arosartmuseum #visitaarhus #visitaarhusregion
CHILDREN UNDER 18 YEARS: FREE ADMISSION