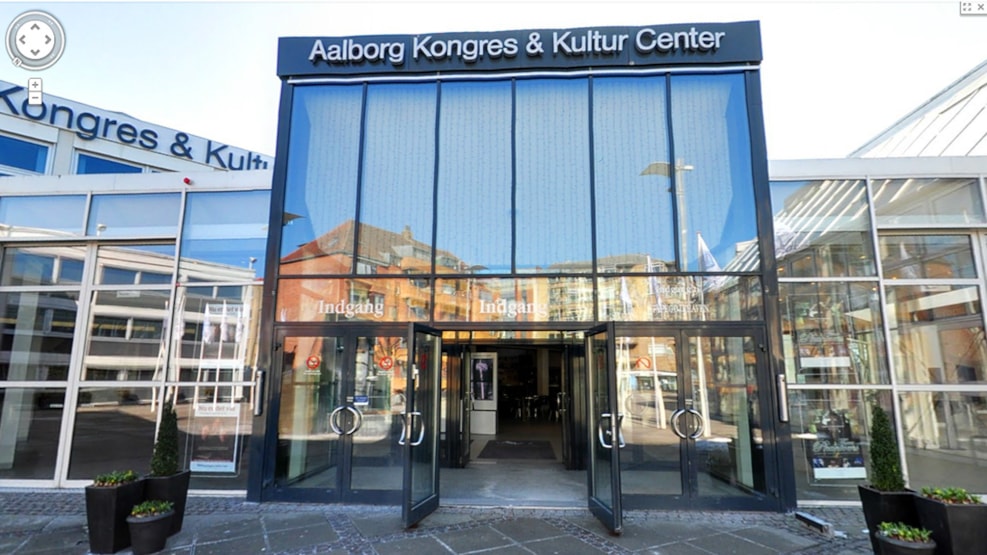 Aalborg Kongres & Kultur Center
Aalborg Kongres & Kultur Center (AKKC) is centrally located in the city with a view of Aalborg's beautiful city park, Kildeparken.
Aalborg Kongres & Kultur Center (AKKC) is centrally located in Aalborg's beautiful park, Kildeparken, only a few minutes away from the city centre and Aalborg's many hotels.
Aalborg Kongres & Kultur Center is one of Scandinavia's largest and most flexible congress and culture centres, which annually hosts more than 1000 events and has more than half a million visitors – for example at congresses, conferences, exhibitions, music and theatre experiences.
In AKKC you can find a wide selection of light and airy meeting rooms that vary in size and are decorated in different, distinctive ways. This makes AKKC the perfect location for hosting the social events for your conference, like for example receptions, conference dinners, informal gatherings and much more. AKKC's professional staff is extremely service minded and will ensure that your event is successful.
In extension of AKKC you can find Restaurant AKKC by MEST, which will treat you with culinary experiences when you host a reception or gala dinner at AKKC.
AKKC – Denmark's first sustainable event venue
Aalborg Kongres & Kultur Center is Denmark's first and only event venue to have been certified according to the international standard ISO 20121 for sustainable events. This means that your reception or dinner at AKKC will be completed in a sustainable manner. Among other things, AKKC is focused on minimizing food waste, garbage sorting and recycling, as well as minimizing their use of water, heat and electricity in an attempt to minimise their own carbon footprint. Additionally, AKKC uses wind turbine power, as they are aware that their consumption of resources affects both the local and global climate.
Reception around The Singing Trees
In the corner of Kildeparken, you can find a large work of art with eight tall, rusty pillars that mark the entrance to the park and its unique "Singing Trees". The park, created by AKKC, was established as an "artist park", and the first tree was planted in 1987 by Sir Cliff Richard. Today, the park consists of more than 80 trees, all of which have been planted by international stars that have performed in AKKC.
In 2012, music was connected to the trees and The Singing Trees became a reality. On Wednesday the 6th of June 2012, the area was inaugurated, and Sir Cliff Richard was back in town to cut the ribbon for the musical park area that quickly became well-known around Aalborg. There are speakers located in front of each tree, and by pressing a button you can hear a medley of each artist's most famous tracks. Each tree represents an artist, and amongst these are Sir Cliff Richard, Sting, Stevie Wonder, Take That, Rod Stewart, Elton John, Vienna Philharmonic Orchestra, Elaine Paige, Victor Borge, Bryan Adams, ZZ Top and many more.
If the Danish weather allows, hosting a reception by the Singing Trees would be an obvious choice. There are plenty of opportunities to network while moving around the trees and exploring the music.
Capacity: Up to 3000 people