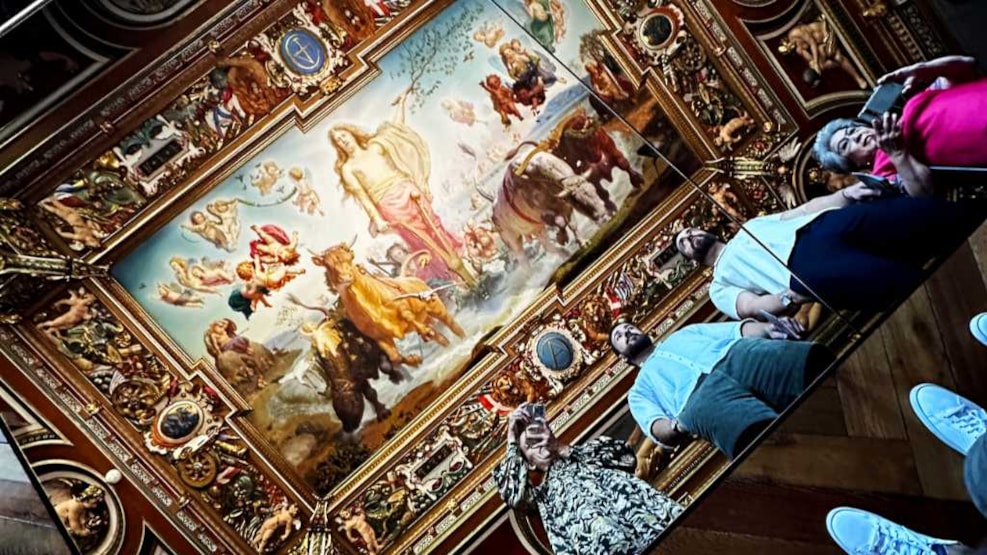 Special Exhibition at Frederiksborg Castle | Magical Ceiling Artworks - Frederiksborg x Dark Matters
Embark on an enchanting journey through national myths, Greek mythology, and an awe-inspiring starry sky. During the summer of 2023, Frederiksborg Castle and the Danish art collective Dark Matters will jointly present a unique staging of six of the castle's iconic ceilings.
National myths, Greek mythology, and a breathtaking starry sky: An exhibition that showcases a reinterpretation of iconic ceiling paintings and national romantic Renaissance ceilings.
Gods, stars, peasants, and animals. The ceiling artworks at Frederiksborg Castle create a symbolic world where nothing is left to chance.
Dark Matters is renowned for their impressive and artistic light installations, and this time it will transform the national romantic Renaissance ceilings into true masterpieces. Don't miss out on this spectacular experience that blends history, mythology, and exceptional visual aesthetics.
During the summer, six of the castle's iconic ceiling artworks will be staged in collaboration with art historians, comedians, writers, and composers.
Experience Lydmor, Herlige Svend, Tina Ibsen, Bente Scavenius, Anna Neye, and many more as they narrate the stories behind the ceiling artworks, while Dark Matters' impressive projection mapping adds luminous, captivating, and magical dimensions to the artworks.
Practical Information
About Dark Matters
Dark Matters is a creative studio primarily engaged in visual communication through animation, lighting, and spatial elements. With a sensory approach to aesthetics and design, they create scenography, installations, and exhibitions that evoke emotions and immerse the audience in constructed universes.