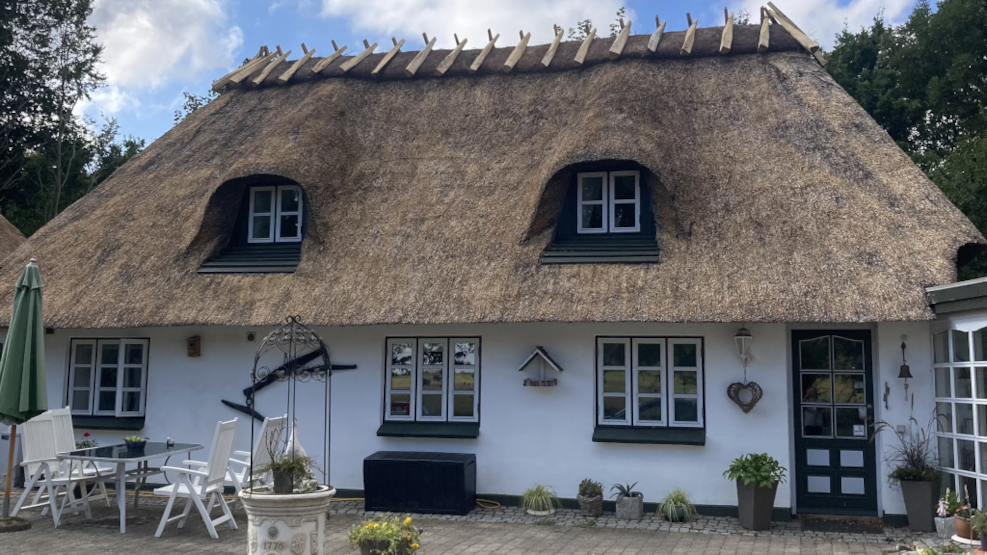 Skovlysets B&B
This idyllic bed & breakfast in the middle of the Juelsminde Peninsula is found in a 200-year-old farm with a thatched roof, surrounded by forest. Here, you can sleep in one of three double rooms in peaceful surroundings, close to the coast and the local attractions.
Idyllic private accommodation near Juelsminde
Nina and Jørgen live in an old farm with a thatched roof in the rural area of Rårup near Juelsminde. The farm is peacefully located around forest, fields, and a stream. Here, they have created a unique setting for accommodation that gives you the opportunity to experience nature, enjoy the silence, and just be.
Skovlysets B&B is the place for you if you appreciate rural idyll, peace, and tranquility. The friendly and helpful owners put emphasis on creating a relaxed atmosphere where you can use the patios and enjoy the view of the forest and fields.
Rårup is found in the centre of the Juelsminde Peninsula, close to Juelsminde, Horsens, As Vig Beach, the ferry port in Snaptun, and the beautiful nature of Vejle Fjord. In other words, it is the perfect place for a holiday with excursions to the area's many attractions.
The rooms and facilities
Skovlysets B&B has three rooms for rent. A double room with a double bed, a double room with two single beds, and a single room. The rooms are all pleasantly decorated – one with a view to the courtyard, and the other two with a view to the forest. There is a shared bathroom, and a shared living room with a TV with streaming services, and games (closed during winter).
Feel free to use the facilities outside including the courtyard, the patio, and garden furniture.
Booking
Contact Nina and Jørgen by phone or mail to book a stay at Skovlysets B&B. You can also fill in a contact form at Skovlysets B&B's website and receive an offer.
Coffee and tea is included when booking. You are allowed to bring one dog per room at an extra fee.
Experiences nearby
The Juelsminde Peninsula connects Horsens Fjord with Vejle Fjord and offers a varied landscape of forested coast, fine sandy beaches, and charming port towns.
The holiday town Juelsminde is found at the end of the peninsula, known for its lively marina. And if you wish to go shopping or experience culture then Horsens is not far away either. From Snaptun you can take the ferry to the charming islands of the East Jutland Archipelago.